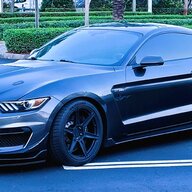 Joined

Jun 21, 2020
Threads
Messages
Reaction score

1,530
Location
Vehicle(s)

2016 GT350
Iirc honeybadger was going to run this with sensors fitted but removed it. Dont recall if he had a reason. Believe the oil crossover was more verifiable as a benefit for true track rats.

i do wonder if #8 is a product of emissions and then us pushing things beyond what was designed. in stock form #8 is trimmed to run leaner than the rest near redline, about 5% less than #4. only tune from Ford ive seen this imbalance zeroed out on is the voodoo and cobrajet and some early roush/whipple blowers (not ford tune)
Interesting.
We've already established that there's a physical disparity between 4 and 8 (with the coolant channel and location of the CHT sensor).
The question then becomes, does Ford use the worst case cylinder condition and apply everywhere (leaving some power on the table) or simply run the risk that #8 is slightly warmer than the others.
I suspect the cooling mod helps more in giving the CHT closer readings to what's going on in #8 than any "cooling" benefit. If there's an 8 degree delta between the two and by exchanging it brings #4 up 3 degrees and #8 down 3 degrees, the benefit is probably more that there's only a 2 degree delta than it is that it cooled #8 down 3 degrees.