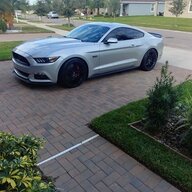 Joined

Nov 20, 2020
Posts
Reaction score

63
Location
First Name

Chris
Vehicle(s)

2016 Mustang GT PP
Hi everyone:
I was thinking about this and figured it'd be a good topic for my first thread. I was enjoying a drink on Monday night and thinking about what's next for my car. I'd love to throw a supercharger on but I just can't justify spending that much money on a depreciating asset.

Which takes me the point of this post. What do you think the breakdown of cost is? If you reply and have insider knowledge, state that please.
Let's ignore installation cost and use a nice round number of $8,000 for this hypothetical supercharger.

I'm grouping the cost as follows:
Material and Labor Cost = $X?
Overhead Cost (marketing, shipping, storage, facility, utilities, insurance etc.) = $X?
Fun Factor Premium = $X?

This is the piece I'm most interested in. Superchargers are cool and companies are in business to make a profit. I don't think anyone would argue either of these. But do you think there is a premium added to the cost of the supercharge kit to the consumer? What I mean by this, is how much MORE is added onto the end user's price on top of what is mentioned above? I look at this as a luxury item, similar to buying any luxury item. A Lexus cost more than a Toyota yet many of those parts are the same. Probably not a great example, but I think you get the point.

This is not meant to be spiteful or insult the many people on here who've added them to their mustang. It's just something I've been thinking about and I wanted to see what others thought. I look forward to reading any replies I get.