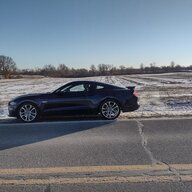 Joined

Nov 18, 2017
Messages
Reaction score

1,174
Location
First Name

Bob
Vehicle(s)

2019 Mustang Bullitt K3107 Whipple 2018 Mustang GT Premium A10 Ruby Red
I have a 2015 A10 3.55 gears., GT 350 axles
with Gt 350 intake and TB, Long tubes headers with cats.
Ready to make it a fun daily driver but still want to go on long all day trips on the expressway.
Torn between the Procharger stage 1 or Whipple Stage 1
Will have a shop install and tune.
Thinking the Procharger is best because the Whipple will just have to much low end and will not hook up?
Plan on Oli [pump gears and cam sprockets at the same time.
I have the 355 gears in my 10R80 with a procharger. When I had just the stock HO kit with Procharger's tune, the car made 525 RWHP SAE at 7000 RPM. I was a bit disappointed but it was actually perfect all around. The shop that did the pull said it ran perfect. 6.5 psi boost. I asked him to drive it and he thought the car would do low 11s or maybe even a high 10 which shocked me. All he does is Mustangs and he drag races almost every other weekend and his two cars, a GT500 and Hellcat are what he drives, so I believe him.
Then I got injectors, BAP, pulley, etc and contact PBD and did a remote tune, datalogging. Probable 9-10 psi boost and kinda ruined the fun of driving the car. It turned into a ridiculously fast nearly unusable car. I honestly am thinking of returning the car back to the original tune/injectors. Why?
Because with the gearing and 10 speed, it is hard to accelerate hard, downshifting and not have an issue with traction. I find myself driving my only tuned '16 stick more often because it is just hard to drive like before.
Just my .02 and I am an old guy so take that for what it is worth.