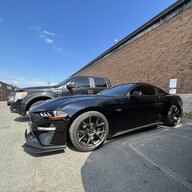 Joined

Feb 7, 2019
Threads
Messages
Reaction score

528
Location
First Name

Eric
Vehicle(s)

2019 Mustang GT PP2
What scares me about the weight reduction is the structual integrity. I really want to buy a set of the SVE PP2 replicas but my cars sees track time about once a month. SVE says "conic looks - built for performance and engineered for the streets!" So not really track oriented. Has anyone been running the SVE PP2 replicas on the track? I may create another thread to ask. The only thing that really sucks about the SVE's is the 10 in vs OEM 10.5 rim. I really want to put a 305 squared setup on but... monies. I cant really find any inexpensive (400-500 ish per rim) wheels that fit the PP1 in 10.5 in.
I understand your concern, especially if you listen verbatim to the marketing verbiage of the wheel (my bone of contention with SVE - I have marketing and advertising Background - they need to align the promise of the product with what it actually does, and vice versa)
Anyway the truth is, assuming we believe that the SP2s are flow-formed, as SVE promotes, this would make their wheels very good for track - if not better - than OE [problem is, we don't even know what the OE wheels are, forged, not forged, etc - although the weight of them could be a clue.]
Flow-Forming has some great benefits, as outlined in this quick article (there are many out there):
https://konigwheels.com/wheel-info-tech/what-is-flow-forming-technology/
Quick quote from the article:
"...This process stretches and compresses the aluminum, which increases tensile strength. In this respect the process shares similar properties to those found in the forging process. The final product is lighter, stronger, has increased elongation, and a much greater shock resistance as well as the ability to increase load capacity over a traditional cast wheel (of the same design)."