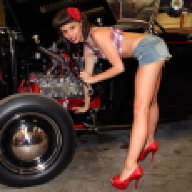 Mustang is my middle name
OK... So I ordered 5/20 and really have not heard much from Ford besides the 45 day "no news" email, which sucks, but I am hardly alone and nowhere close to being one of the long-time waitlisters on the board...

So about a week ago I mentioned to a guy I know from an online game that I play that I have a Mustang on order and I am waiting for a build date. He mentions that he might know someone that can help me out and asks for my order info to pass on to his connection. He's probably full of crap, but what have I got to lose... right?

I wait about a week for him to do what he is gonna do and see Tentaclekitty's post, so I figure that it's time to see if anything has changed.



I was not able to get the chat function to work, but there is an email address there that you can use. I emailed my information and Anthony from Ford let me know that he was not able to see priority code information and suggested that I call my dealer. My dealer looks up the information and mentions that I don't have a build date yet (no kidding...) and mentions that it might be because of this option or that, but then I asked them to tell me the priority code. Apparently dude's hookup got me moved from Priority 19 listed on my DORA to Priority 2...

Who says video games are a waste of time? Fingers crossed for Thursday...
Too Funny, I went from 11/27/21 until I got the "scheduled" email on 4/21/22 before I heard anything, to be followed by 5 build date/week change emails. As of today, it's supposed to be built a week from tomorrow!!!