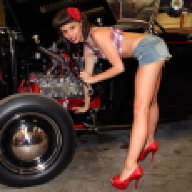 Mustang is my middle name
I'm new to all of this, but it seems I'm not alone. My wife and I ordered a Ecoboost Premium 6 speed in Eruption Green with Tan seats and the spoiler delete back on 4/25, and apart from "order confirmed", it has been crickets. Ford Performance tells me it's "Unscheduled - Clean." With the color going away in 23MY, I'm starting to lose hope that Ford is actually going to build the damn thing.
You still have plenty of time, they haven't started scheduling October yet and there will probably be more people pulled into September with all the ones that have been pulled into August from September. Hold on for what sounds like an awesome build, the green and tan should look epic.