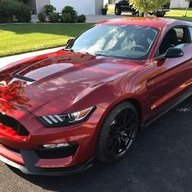 Joined

Oct 29, 2014
Threads
Messages
Reaction score

61
Location
First Name

Joe
Vehicle(s)

2017 Ruby Red GT 350
I've had a Mustang GT since 2013 when I bought a 2011 Mustang. I have since owned 2 different 2015 GTs, but haven't owned one since selling my last GT the day I bought my wife's engagement ring a couple of years ago.

I've recently been looking to get back into a GT so I was pricing some out and found one I wanted to test drive. I test drove the 2018 GT PP and it was a familiar feeling. Some slop in the driveline and a lot of slop in the transmissions / shifting. The clutch was difficult to get the engagement point spot on. It was enjoyable, yet underwhelming. Maybe I'm just too used to them? Idk.

When I got back from the test drive I noticed there was a used GT 350 on the lot, and asked the salesman if I would be allowed to drive it. He said they aren't supposed to, but he didn't have anything better to do so we got in and took it for a spin.

I have to say, if I didn't know I was sitting in a Mustang I would never have guessed it was one. It was absolutely INCREDIBLE the difference in the two cars. The GT 350 is simply head and shoulders better in the categories of engine, transmission, clutch, driveline, and steering. I only got the car up to 5k during the test drive and even that felt like it was screaming. My world is now flipped upside down knowing what I've been missing out on. Honestly if those things don't matter to you then you probably aren't on this forum.

Anyways, thought I'd just give my $0.02 on my reaction to the differences after finally driving a GT 350. I'm currently looking to buy one lol.