Among the Ford Performance 2015-17 Mustang GT power pack offerings announced back in July, is the most popular entry-level M-9603-M8 Power Pack 1 which features a high flow K&N air filter and Ford calibrator that promised to unlock 13 horsepower and 16 lbs-ft peak gains.
The team at Late Model Restoration recently installed the Power Pack 1 on their 6-speed manual performance packaged 2015 Mustang GT which had already been fitted with a Ford Performance GT350 sport cat back exhaust.
The stock baseline dyno (5th gear pull) made 395 horsepower at 6500 RPM and 370 lbs-ft of torque at 3900 RPM (93 octane).
After LMR takes us through the installation of the K&N filter and calibration, their Mustang GT goes back on the rollers for updated results which outperformed even Ford's own estimates.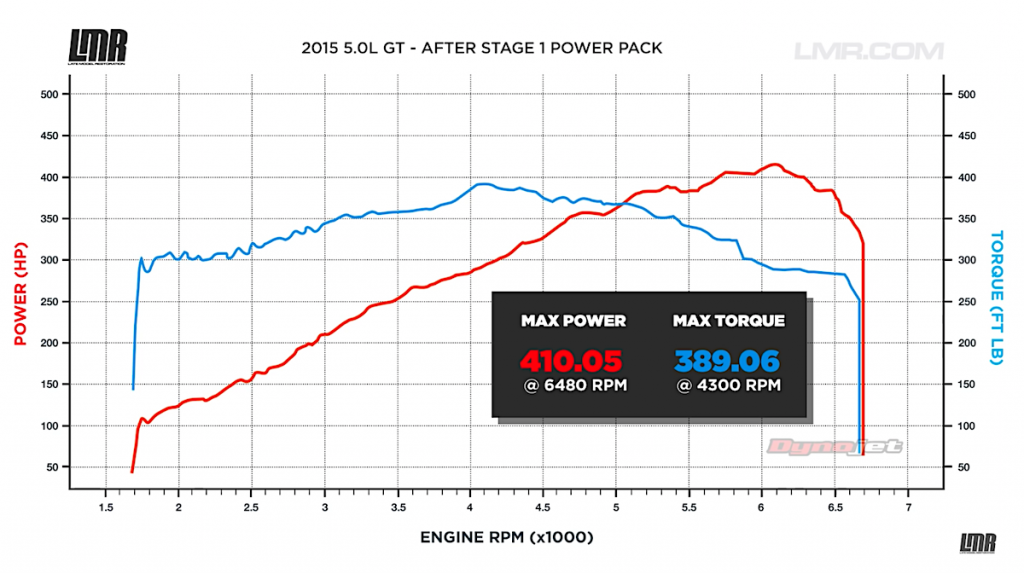 The post-install dyno pull showed the Power Pack 1 helping to increase power to 410 horsepower and 389 lbs-ft of torque for an increase of +15 peak horsepower and +18 peak torque and even more impressively, curve gains of 21 horsepower and 38 lbs-ft of torque at 4300 RPM.
Check out Late Model Restoration's install and video review of the 2015-17 Mustang GT Power Pack 1 in the forums.