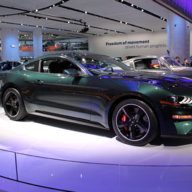 Super Moderator
Moderator
Joined

Mar 31, 2013
Threads
Messages
Reaction score

1,493
Location
Vehicle(s)

'01/'09/'19 Bullitt, '90 GT, '00 Corvette FRC
In the long line of Ford Mustangs I have owned going back to 1995, I've now ordered 3 times. The first time was for a 2007 GT that I got in calendar year 2006 - a spoiler delete car. That car was customized with appearance items so that I made it mine (rear decklid spoiler, front grill trim piece, lower front grille spoiler). Then I ordered a Magnetic 2015 GT in the summer of 2014 which arrived in November. I have thread that details my daily driver experiences
here
.
I own a 2001 Bullitt (black) and a 2009 Bullitt (green), so when the '19 was announced (even before it was announced), I had been planning on getting the trifecta. I struggled about keeping the '15 or not, but with the prices, it was more affordable to trade (note I only had 2 payments left on my '15 when the '19 Bullitt came in - silly me).
I wanted a no option model for 2 reasons - 1) I wanted less cost with less complexity in trying to keep with a more minimalist machine, and 2) I am guessing not a lot of these will be a popular ordering combination. That said, this car really isn't a stripped vehicle because of it being based on a Mustang GT Premium with the 401a interior array, active exhaust, and performance package 1 handling option.
This car (chassis number K1254) will be my daily driver (except for snow conditions) so I have an appointment tomorrow to swap out the summer Michelins with the all-season version. This is so I don't lose traction when it's 40 deg F and wet out. I didn't garage my '15 GT since I only have a single car garage but I think I will be moving my other 2 Bullitt Mustangs into storage and putting this one in it.
Other than the tires, and accessorizing with Weathertech floormats and a Craig's Custom Mustang Bracket for the front license plate, there are no planned modifications. I will miss a CD player since I have the base stereo, but the USB stick works just fine.
I had not driven an '18 GT since I had my '15, so a whole new world has opened up to me, even as I've read other owner impressions. The thing that really makes this Bullitt ownership experience, for me, is the exhaust sound. Just like the '01 and '08/'09 before it, the tone and burbling noises up the enjoyment factor. Go view Matt Maran's videos if you haven't experienced this sound.