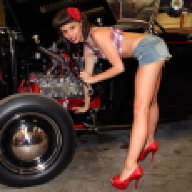 Mustang is my middle name
The actual Mustang is a poor choice for NASCAR because they run ovals and the speeds are so high a longer car is more aerodynamically efficient. They ought to let the GTLM GT run NASCAR, it'd be the return of Bill Elliot and the Thunderbird!

I disagree that Ford should also promote a racing vehicle from the Lincoln brand - Cadillac as been beating their head up against a wall forever doing it, without much success translating to sales. IMO it's assinine, the Corvette is GM's top performance vehicle letting the self centered dips shits at Cadillac try to change that is f'n stupid. For all the hoop-la of performance vehicles in truth the lower-end cars with base engines make up the bulk of sales. There is nothing to gain for Lincoln by having a racing car, on the other hand Ford is established in racing; bring on the GTD class Mustang! If BMW can run a 4 door sedan in GTLM, Ford can surely figure out how to make GTD worthy variant of a Mustang, which tend to be significantly slower than the GTLM cars. I am not even sure GTD cars are quicker than the GS cars, if so only marginally.
Either way Lincoln or Ford, they need a different vehicle for GT3 than the Mustang. It would be at a major disadvantage aerodynamically, as well as height and weight wise vs. all of the other makes. Maybe they can build a more reasonably priced GT, that normal people can afford or are even allowed to buy? Modify the Mustang chassis to make it lower and rip out the back seat, maybe make it a mid-engine, or leave it like the Aston with a V8 up front? But, we don't need a GT3 Mustang.