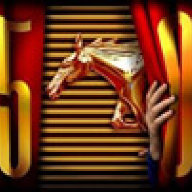 Administrator
Staff member
Administrator
Lucky Ken Block recently got a private preview of the 2015 Mustang at Ford world headquarters (on 2/18). Here's some Instagram photos he posted.
Here's what he had to say on Instagram: "I got to see the next generation Mustang today (it's dope) at the Ford design center! Sorry, but this is the only photo they would let me show you." <-- too bad! :(
And in case you're not from earth, that's Ford CEO Alan Mulally standing next to Ken.