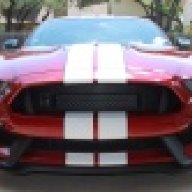 First Ford - First Shelby
Joined

Nov 15, 2017
Threads
Messages
Reaction score

149
Location
Vehicle(s)

2017 Shelby GT350-Conven Pkg - 1st Perf Mods Done
Right now, I am leaning against considering a header install on my '17 GT350, but I would like feedback from members who have already done this. In retrospect, are you glad you did this mod? If not, why not? If yes, what were your verifiable power gains? I am particularly interested in those that did headers with high flow cats that plug into the balance of the car's stock exhaust system.

Despite a number of threads here on that topic, I don't think all the information I am looking for is clearly laid out in any of them. I am not adverse to modding the car "within reason" having already done intake and a custom tune with pretty good results. So clearly, I am willing to do a certain level of mods. And I have found through my own experience, that these cars really respond to raising the octane by adding 5 or 6 gallons of legal 100 octane to the tank. I like E85, but too much of a pain since I live in Florida and it is so hydroscopic.

Here is what I "think I know:"

1. The two most popular Header manufacturers are ARH and Kooks;
2. Both brands offer "high flow cats" and can connect to the balance of the stock exhaust system;
3. Headers for the GT350 are made of significantly thicker gauge SS to help deal with FPC higher levels of vibration;
4. Some people allege that the real gains from header systems (20 or so rwhp?) are mostly the result of them using significantly better flowing cats than stock, as opposed to the majority of results coming from improvement over the factory header system;
5. Installation of headers on our cars is a royal PITA which involves many hours of labor and a shop who is extremely competent to tackle this;
6. This is a very expensive mod (over $3k) due to the cost of the headers, install, and required resultant tuning.

Questions re your specific experience with headers on this car:

1. Would you do it again? Why or why not?
2. Approximate costs of the headers you bought and all related labor and tuning costs? What brand did you choose and why?
3. For those of you who connected headers into your stock system, how much louder was the exhaust? Do you like the sound of the system as opposed to the stock system sound (Which I really like).
4. What were your documented before and after rear wheel h/p and torque numbers? Were these with or without other mods?
5. Did you have your headers thermal coated before installing? I have always done this with any prior cars I had (Corvettes). I used a real, proven ceramic thermal coating - SwainTech with very measureable reductions in heat loss from the pipes.

Thanks in advance for taking the time to respond. I am really interested in member's responses NOT vendor responses. Again, right now, I am thinking more seriously about getting sprung and unsprung rotating mass weight off the car - perhaps equivalent to around 200 lbs. Starting with the wheels, which weight a ridiculous 31 lbs each.


Thanks again..