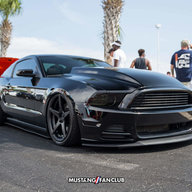 Well-Known Member
Diamond Sponsor
Joined

Sep 14, 2020
Threads
Messages
Reaction score

310
Location
First Name

Jake
Vehicle(s)

2019 F-150 STX
Oh, you thought the deals stopped?!
Black Friday is drawing to an end as we reach CYBER MONDAY here at Lethal Performance.
We've got up to
25% OFF
some of your favorite brands (including Whipple Superchargers, Division X, Baer, ViKing & more)...
PLUS
we're giving away for $20,000 in cash & prizes (including a Whipple Supercharger).
As always, any questions? Feel free to shoot us a message or give us a call at 561.753.8105 / 877-2LETHAL
More info here -->
https://www.lethalperformance.com/info/blackfriday2021
Sitewide Sale
|
11/15-11/30
|
10% off
| Use code
FRIDAY
|
*Standard exclusions will apply
DD149 and WD152 Intakes
|
11/22-11/29
|
15% off

Lethal / Division X Fuel Systems
|
11/15-11/30
|
10% off
PLUS
be entered into a drawing for a
FULL REFUND
1320 Junkie
|
11/26-11/29
|
$50 off
ported manifolds
Aeromotive
|
11/22-12/3
|
10% off

American Racing Solutions
|
11/24-11/29
|
10% off

Baer
|
11/22-11/29
|
15% off

Boundary
|
11/26-11/30
|
$249 shipped
for oil pump gears + crank sprocket combo
Cobb Tuning
|
11/24-11/29
|
10% off

Corsa Performance
|
11/22-11/30
|
LOG IN
for pricing
Corsa Performance HH-pipe
(COR-14502
)
|
11/15-11/30
|
$100 gift card
OR
a
FREE Dragy
with purchase
Diode Dynamics
|
11/22-12/3
|
15% off

Eibach Suspension
|
11/22-12/3
|
15% off

Exedy Clutch Kits
|
11/1-11/30
|
LOG IN
for pricing
FIC Injectors
|
11/26-11/30
|
10% off

Griptec
|
11/16-12/31
|
15% off

Hellhorse Performance S550 Turbo Kit
(
Click here
) |
11/22-11/30
|
$1000 off

Kooks Headers
|
11/1-11/30
|
LOG IN
for pricing
Mantic Clutches
|
11/22-11/29
|
10% off

MBRP Exhaust
|
11/22-11/29
|
15% off

Mickey Thompso
n |
11/15-11/30
|
Get a $30 gift card
when you purchase (Qty. 2) of
MIC-3472
OR
MIC-3572
(IN STOCK!)
N2MB Wot Box
|
11/24-12/31
|
$179 shipped!

Nostrum High Performance
|
11/24-11/29
|
10% off
pumps & injectors and
15% off
bundles
Palm Beach Dyno
|
11/16-11/30
|
$50 off custom tune by itself
OR
$100 off custom tuned device

Paxton Superchargers
|
11/22-11/29
|
15% off

PMAS Intakes & Accessories
| 11/22-11/29 |
15% off

Procharger Superchargers
|
11/1-11/30
|
LOG IN
for pricing
Pypes Exhaust
| Up to $40 BACK |
Click here
for details
Roto-Fab
|
11/22-11/30
|
10% off

SCT Performance
|
11/1-12/31
| Up to
$80 BACK
|
Click here
for details
SCT Performance
|
11/26-11/29
|
20% off
devices
PLUS
discounted Power Packages
PLUS
Up to
$80 back

Thermal R&D Exhaust
|
11/22-12/4
| Sale pricing on select kits
UPR Products
|
11/26-11/30
|
10% off

Velgen Wheels
|
11/22-11/29
|
$300 off when you purchase (4) 20" or 22" Lightweight Series Wheels

Vi-King
|
11/24-11/30
|
10% off

Vortech Superchargers
|
11/22-11/29
|
15% off

Whipple Superchargers
|
11/26-11/30
|
10% off PLUS
be entered into a drawing for a
FULL REFUND
Whiteline
|
11/18-11/29
|
25% off MSRP

XDI Fuel Pumps
|
11/22 - 11/29
|
10% off

Xforce
|
11/21-11/30
|
10% off
Last edited: