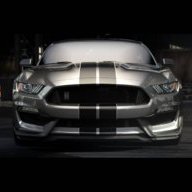 Joined

Mar 13, 2019
Messages
Reaction score

32
Location
First Name

Shawn
Vehicle(s)

2020 GT500 and 2018 Ford Raptor
I've been a member on this forum and the Mustang community for a very long time selling pre-painted parts.
Many people are always blown away by the color match that I provide on my paint jobs and people message me asking if I can sell them some paint.
The reason that my color matches are so good is because I mix large batches of paint and all I paint is Ford vehicles (F150, Mustang, etc). We mix usually 5 gallons per paint code. Once that 5 gallon batch is made, we do color verification by doing sprayout cards then goto the Ford dealership and do comparisons until it is as close as possible.
Other touch up companies try and sell every paint code for every car manufacture that there is. When you place an order they mix the paint to order in small amounts which its nearly impossible to get a perfect mix ratio. (The smaller the amount of paint you mix, the more inaccurate the color match is because the slightest over/under pour of a toner will make a huge difference.)
If you order the factory "OEM" touchup bottles from Ford or your local dealership they give you LAQUER paint! This is paint that was used in the 1970's and 1980's and its literally not even used anymore. Modern paint systems use Urethane Basecoat/Clearcoat which I am providing.
I recently came across a very nice touchup bottle that I was super impressed with. I bought the bottles to send my customers some touchup when they purchased parts from me. I've been getting so many compliments on how great the touchup is and the applicator that I should start listing them for sale.
I figured out an easy method of pouring paint from my containers into these bottles without being a hassle for me. So for $17 shipped to your door with USPS tracking I can send you your color. IF you would also like a clearcoat pen, also $25 shipped. Or for $35 I will include a primer pen that will stop and seal rusting on a metal panel. I am able to ship within 24 hours of payment.
I have pretty much every color there is...Just PM me
Last edited: