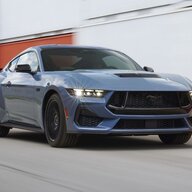 Joined

Aug 31, 2018
Threads
Messages
Reaction score

2,185
Location
First Name

Greg
Vehicle(s)

Mustang V8 GT, Ford Kuga PHEV, Lotus Emira (order)
1. Incorrect. I suggest people who are experts in their field are cherry-picking data and making catastrophic predictions to advance political agendas.

That's an entirely different claim.

2. Your final statement is optimistic to the point foolish. "Trust the Science" is the refrain of those who don't understand how maddeningly difficult it is to produce legitimate scientific research. Further, we aren't being asked to believe actual measured data. We're being asked to believe computerized prophets of doom which are programmed by all too fallible humans. I don't know how much simulation work you've done, but defining the boundary conditions is incredibly difficult and will absolutely be biased in the direction of those doing the programming.

If Climate Scientists were honest, we could have a reasoned discussion about what is actually happening and what the correct response should be. They're anything but. The claim "The science is settled" belies any science I've ever know. Science is _never_ settled, that's reserved for the realm of dictators and religion.
You can suggest what you like, but it is deeply insulting to people who devote their entire lives to scientific research and people like you dismiss it in the blink of an eye. I have been involved in research and know a lot of people in many different fields and NOT ONE of them cherry picks data to fit their 'agenda'. Why does the plane fly, why does the bridge not collapse, why does the medicine treat the disease, because they have been researched and developed and understood.
So which bits of science do you believe ? The bits you like ?