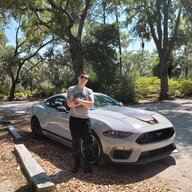 Joined

May 10, 2021
Messages
Reaction score

51
Location
Vehicle(s)

2021 Mach 1
I went for my first proper drive in my RHD UK Mach 1 this week after collecting it on Friday and it spending the weekend with the detailer.

Now, it may just be a RHD thing, as we use our left hand, but did anyone else have issues with stiff gear selections where some force was required to get it in gear?

And does anyone else have a high biting point on the clutch? MIne is right at the top of the pedal travel.

I've put 400miles on the car so far and it has begun to get easier to engage gears, but it is very mechanical and there's still stiffness and resistance to getting in gear.

Is this normal or should I be speaking with the dealer?

I had an MT82 GT before this and that had a mid pedal travel biting point and easy gear shift. I expect the Tremec to be notchy but at the moment it's a fight.
That sounds like how it should be. The gear shift is positive and notchy, but the fact it doesn't have squishy bushings makes it feel kind of stiff. The clutch point is very high, to the point that two people I let drive it who are very experienced hot rod/ performance car drivers managed to stall the very first time. All of us consider it a good thing that you get used to right away. High clutch points mean you can stab down on the clutch and get to shifting faster without worrying about still being engaged.