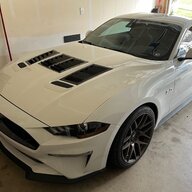 Joined

Apr 8, 2020
Threads
Messages
Reaction score

128
Location
First Name

Matt
Vehicle(s)

2021 GT 6MT Base
Hi Never - to your point, I ran a calculation to determine the impact of shifting at 6500 rpm vs. 7200.

I have a little analysis I put together when I was trying to decide which tranny to get (A10 or M6). I took the Coyote torque and HP curves and basically simulated a run down a straight away (apex speed to max speed). I would average the torque and HP over that speed range as you would shift through the gears and compare doing that with a M6 vs. A10. All stock including tires. As you know, I picked the A10 as my horse.

For this shift point evaluation, I used 63-140 mph. So that's 3rd gear at the apex and shifting into 7th and topping out at 140 mph. Here are the results w/ no transmission or driveline losses included in either case. The magnitude is off since no losses are included but the relative difference between the shift points are valid. See below for the results. Better to shift higher if cooling allows. Cheers.

7200 rpm shift Point:
Ave Torque = 2044 ft-lbs
Ave Power = 454.6 hp

6500 rpm shift Point:
Ave Torque = 1948 ft-lbs (-4.7%)
Ave Power = 435.7 hp (-4.2%)
Credit to you for doing the work--it'd be interesting to look at the analysis over an entire lap.
In desperation as I was fighting through my issues a couple years ago, I spoke with Vorshlag about the 2018 they developed. They had the same heat generation challenges at 6500+. They found short shifting at times to stay closer to torque peak resulted in faster laps for them and significantly less heat problems in their 6MT.
I still ripped mine to 7250 for every shift once I had it loaded up with coolers and vents.