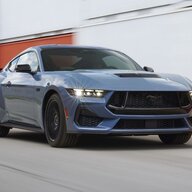 Joined

Aug 31, 2018
Messages
Reaction score

698
Location
First Name

Greg
Vehicle(s)

Lotus Evora S, Mustang V8 GT, Ford Kuga PHEV
It's not going to matter one bit if the OP buys and drives another S550 GT OR buys a 5 year old Prius...

He's still young, immature and inexperienced in road manners and how to cope or handle a vehicle when an unpredictable event comes up unexpectedly.

In no way is it meant as a bash, it's just facts really.

The hydroplane would not have occurred if the OP was driving at a more controlled pace, was aware of his surroundings and fully knowing the pavement was saturated, but apparently was not in complete control of the vehicle.

Inexperience is inexperience - he can wreck, kill/injure himself or kill/injure someone else just as much in a Prius or an S550 with substantially more power... it's not the type of car or the power it has, it's the total lack of on the road experience. I don't care if the OP drove 3,000 miles or 50,000 miles before his recent wreck, he's still only 18 and most likely only has been legally driving (in some states) for either 1 year or less. The experience comes in YEARS of driving and dealing with all sorts of Highway settings and weather types, let alone thoroughly KNOWING your car's capabilities in and out.

The OP should consider driving school or going to a driving event to be trained on how to control a vehicle during XYZ situations. It will not only be a learning experience, but it will help with future unexpected Highway events. Upon successful completion of the course, he might qualify for an Insurance discount (maybe).
100% agree with this. Driving well is in the head not how slow or fast your car is. Even the slowest car on the road can kill you or others.
If you ask Lotus how to modify their cars to go faster, they say go on a driving course !