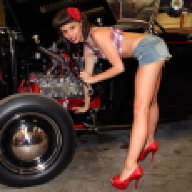 Mustang is my middle name
As for the Galaxie, you can install a Eaton /Detroit TruTrac in that 9", & it will operate very well.

They produce a 50%/50% torque bias, per axle, when engaged.

TracLocs are barely 60%/40%

at best

.

As the clutch plates wear, that bias diminishes.

Clutch style units like Ford TracLoc's are harsh without Friction Modifier additive in most vehicles, so we assume you had it in your F150 that wore out in 20k mi.

If not, it will wear the clutches out quicker than if you use the additive. Most cannot stand the characteristics of using one w/o it. So again we assume you did so.
I've run Truetrac's in my F150s for years and they work awesome, they operate very similar to the Torsen in my Mach1, and the only maintenance is changing the gear oil.
I've had Auburn, TracLoc and Detroit Lockers in Mustangs and F150s over the years, but the Truetrac is my favorite. The Detroit Locker was nice, but every once in a while driving BOOM a huge noise when the two sides would line up and fall into the locking center. The first time it happened scared the heck out of me, I thought I broke something. That and the chirping tires going around slow corners, made it kind of a pain.
The Truetrac acts like an open diff, until you need more traction, then it just works. You can test it with one wheel on pavement and one in the dirt, it really works.
If you have the diff apart changing clutch discs, etc. just get a Torson for $1000 or a Truetrac for $750 and swap it out, then only change lube from now on.
Last edited: