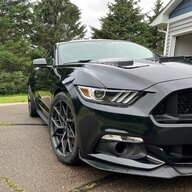 Joined

Nov 26, 2014
Threads
Messages
Reaction score

6,141
Location
Vehicle(s)

Mustang, GR86
I have driven V6 and GT Mustangs year round, but I wouldn't recommend it with a GT500. I did drive my GT350 occasionally in the cold and sometimes in the snow, and it handled weather just fine. I used my Pilot SS tires down in the 20s and they were fine as long as I was sensible with the throttle. Of course if I was told the tire's can't be used below 40 I wouldn't use them in the cold. At the time I didn't have any information that said 20F was a problem for the Pilot SS tires.

But the nice thing about the GT350 is if you keep the revs down it doesn't have a lot of torque. And it has very tall gears, which also keeps wheel torque down. The GT500 with 7 speeds has a lot of engine and wheel torque. And heavier cars are not as good in slippery conditions.

I do expect that snow/weather mode is good in the GT500, but with a DCT you don't have quite as good control over how much power is applied to the wheels compared to a manual. You also don't have an easy power disconnect device (clutch) that you can step on. Engine braking can break the tires loose under no throttle just like heavy throttle can break the tires loose.

Sure you can drive a GT500 year round no problem, but I wouldn't, especially with something so valuable and a little less suited for it. I'd buy a second car for slippery conditions. I have a Fiesta ST, but if you're a baller buy a Cayman or something similar. I think a Porsche would be the perfect sporty car for low traction winter driving if you have money to burn. From what I understand they are great handling cars at the limits. And winter gives the only opportunity to explore those limits without going to the track.

You can get by with all season tires, but I don't like them. I prefer snow tires because you will get better grip if you hit a patch of ice or something. But then I also hate to slow down when it's snowy and icy. If you're a really patient and careful driver you can certainly get by with all seasons. My philosophy is I'm paying for a sporty car and I want as much traction as I can get at all times.

Edit: I also wouldn't recommend weight in the trunk. It can shift around and damage things. I learned that lesson back in my Fox body days.
Last edited: