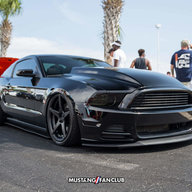 Well-Known Member
Diamond Sponsor
Joined

Sep 14, 2020
Threads
Messages
Reaction score

497
Location
First Name

Jake
Vehicle(s)

2022 F-150 RCSB 5.0
2024 Mustang GTs and Dark Horses are arriving at dealerships which means one thing: time to get modding! Our Grabber Blue GT is on the way to us and our Dark Horse is in production, we're excited.
While some of the parts from it's S550 predecessor will cross over, something all new for the 2024 Mustangs is Whipple Superchargers new Gen 6 3.0L supercharger kit, designed to add massive power to the new model and work with it's dual intake and throttle body setup.
The previous Gen 5 3.0L Whipple Supercharger was already a record-setting supercharger but Whipple strives to constantly upgrade & innovate.
The new Gen 6 rotor design & profile has an updated bearing plate and new inlet port shape for increased rotor filling. You'll also see lower temps and increased airflow throughout the RPM curve, which only gets better as the RPM gets higher!
FUELING?
The Whipple supercharger kits will use Bosch 55lb/hr fuel injectors, the same injectors used in the 2018-2023 Mustang kits.
Another crossover part on the 2024 Mustang kits is Whipple's massive intercooler, used in the 2018-2023 kits. This intercooler is a dual core, dual pass setup with dual 3/4" inlets and dual 3/4" outlets.
WANT TO HEAR IT? WE THOUGHT YOU WOULD...
BUT WHAT ABOUT THE DUAL INTAKES?!
Ah yes, the dual intake and dual throttle body setup--seeming to cause a stir! The new Gen 6 Whipple Supercharger kits for the 2024 Mustang will utilise Ford's new dual air box and dual air filter setup, which will then merge and be mated to a single throttle body at the supercharger entry. This allows Whipple to get the most efficient tuning with the large, single throttle body but retain a 50-state-legal setup with keeping the factory dual intake tubing and mounting.
The Stage 1 kits will come with a single 92mm GT500 throttle body.
The Stage 2 kits will come with a billet 112mm round throttle body
(using GT500 electronics)
.
There will also be an optional 120mm throttle body for race applications.
BOOST NUMBERS?!
The new Gen 6 3.0L Whipple Supercharger kit for the 2024 Mustang will come set up for about 12psi, using a 3.75" pulley.
THE MOST IMPORTANT PART (BESIDES HORSEPOWER): HOW WILL WE TUNE IT?!
The 2024 Mustang GT, like it's S550 predecessors, does come from Ford with a locked up PCM tighter than Fort Knox. However, Whipple has an amazing relationship with Ford and has the ability to tune the PCM for their supercharger kits, using a new & improved Whipple Tomahawk v.2 flash tool. Both the Stage 1 and Stage 2 kits will come with a 50-state-legal calibration!
While you won't be able to custom tune these cars for a bit, you can definitely slap a Stage 2 Whipple Supercharger kit on there, tune it and enjoy all the horsepower benefits.
We'll have more info, including pricing & availability, soon so stay tuned to Lethal Performance for the latest info on the new Gen 6 3.0L Whipple Supercharger kit for the 2024 Mustangs!
As always feel free to give us a shout with any questions! Call us at 561-753-8105, shoot us a PM or email support [at] lethalperformance.com!