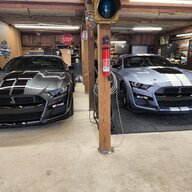 Joined

Feb 20, 2019
Messages
Reaction score

648
Location
First Name

GG
Vehicle(s)

GT Mustang 2019, GT 500 Magnetic 2020, 2020 Bullitt, Dodge Challenger Hellcat Redeye Octane 2019, Dodge Charger Hellcat White Knuckle 2019, Toyota Supra Premium 2020, Toyota Avalon TRD 2020, Honda Civic Type R 2019
https://www.google.com/amp/s/insideevs.com/news/361472/don-garlits-189-mph-record/amp/

"Big" is one of few mortal men I've considered a positive role model at all levels of life.

Even Big Daddy thinks EV is cool.

If a Tesla pulls up alongside my GT/PP I don't even attempt a holeshot.

For those that haven't driven a Tesla in Hypermode I suggest you get that on your bucket list.

As a life long T/F P/S 1320' enthusiast I'm looking forward to EV's. The lower emissions of an EV isn't even on my radar, the power delivery on the other hand........ well as I said, go drive a Tesla.
Yes I have driven them and raced them in my Hellcats as well and yes they are fast. But and a big butt
why doesn't the EV manufacturers sticker on the window show how much of a Carbon Footprint it took to make the vehicle. And if you have to charge your vehicle and requires fossil fuels to charge it the Carbon Foot Print as well. Also the manufacturer should have to make the consumer aware before purchasing their EV how it will be charged. Meaning is your local electric company Coal, Natural Gas, wind, solar, nuclear....etc hamster wheel
Years ago I read it was 40k miles on an EV before it actually helped the carbon footprint impact. And the irony to all this EPA crap is most of these vehicles people modify are toys being they are not daily drivers. I would be willing to bet most mods are specialty vehicles that don't even get driven 5k miles a year for the majority. The miscommunication to the general public is always the problem and the EV movement has a lot of misinformation. Just as an example I have looked at the new Mach E Mustang and should you want a fast charger system for your home and your not a handy man. Then plan on spending 4K plus to have the system installed otherwise your going to spend days charging your car on the 120 outlet. And oh ok get the dryer plug installed in your garage by an electrician and that will be 1k bill possibly as well. And you have to oay for charging your car by the KW at home and or away from home as well.
The Covid pandemic has lessened the Carbon Foot print by huge numbers never seen in the world in modern times. Air plane travel disappeared, cruise ships, public transportation, people commuting to and from work.....etc. Where the hell is that conversation on how much the ozone has been saved? Yeh it's the Blind leading the Blind rhetoric which in the end it's a political and transfer of wealth program to enrich select others and punishing most for the beliefs mankind knows the end result.