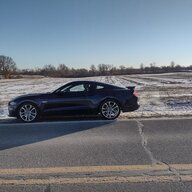 Joined

Nov 18, 2017
Messages
Reaction score

1,212
Location
First Name

Bob
Vehicle(s)

2019 Mustang Bullitt K3107 Whipple 2018 Mustang GT Premium A10 Ruby Red
I stated some months ago that I wanted to make a comparison between the complete kits of Whipple stage 1 with the supplied Whipple stage 1 tune compared to the Procharger Stage 1 with Procharger's supplied tune. Here is my review so far.

The Whipple setup was on my 2019 Bullitt and the Procharger setup is on my 2018 Mustang GT 10 speed auto. Both cars otherwise stock. The kits were within $100 of each other, so I though it was a goo comparison. I know aftermarket tunes might help, but this is "stock vs stock".

Whipple: Tune spot on. Lower torque. Since it is a manual trans, no opinion on shifting. Started and ran excellent. Intake air temps were only 30-40 F higher than the outside temp. 676 RWHP at 7,800 RPM SAE.

Procharger install was 1/2 the time of the Whipple. Car started and drove like stock except for WOT. In that case, the car acts very weird and lets off at the shift which is very irritating. In higher speeds, the downshift and high rpm shift is good sometimes, but other times the car will stay at a lower RPM like it isn't getting enough throttle. Very weird. I emailed Procharger and they told me to datalog. I asked what PIDs they needed and they told me to look online. In the past tuners told me the PIDs or sent me an email with a file that I attached the datallog to.

The power at 6.50 PSI is not close to the power of the Whipple. The acceleration is smooth and very linear. Intake temps are high in my opinion, about 90F higher than ambient temps.

The quality of the parts are good from both with fairly good install instructions. However the Whipple kit comes with pre-made hoses with OEM style ends and attachments. Since it requires wiring for the intercooler, etc, it is very complete with OEM style snap/click style parts. The Procharger has hoses you cut and I probably used 15 worm style clamps. They work, but more crude.

Summary so far: I like the linear power of the Procharger. I liked the torque of the Whipple, but the Whipple also had it on the upper end. I know some folks will say: "we told you to get the stage 2 kit". I wanted a fair comparison on entry level kits. Perhaps after datalogging the Procharger and a tune revision will change my mind. Still struggling to understand the higher IATs, though.
Last edited by a moderator: