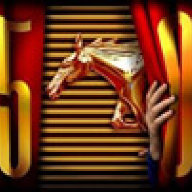 Administrator
Administrator
We've gotten our first look under the hood of a 2015 Ford Mustang Mule, revealing not only its engine, but also some interesting signs of repackaging that could point to some aspects of the the next Mustang.
The engine bay on this 2015 Ford Mustang Mule reveals notably tighter confines than the current model. The current Mustang's engine bay is essentially a square, with room available for components to be found from corner-to-corner. The engine bay found on this 2015 Mustang Mule shows structural elements that pinch noticeably between the wheel wells and the grille-opening. Instead of the rather blunt, squared-off nose of the current Mustang (which is mirrored by the shape of the engine bay), the 2015 Mule suggests that a more shapely front fascia could be in the works. Take a look at the angled headlights of Ford's Evos concept--which span between the front wheel arches and the grille--and compare that to the new shape of the engine bay found on the 2015 Mule, and the similarity is instantly apparent.
There has been speculation as to whether the futuristic Evos concept foreshadows a more modern styling direction for the 2015 Mustang, or if the retro theme found on recent models will continue to dominate. These new shots of the mule's reshaped engine bay may give us some clues that point to some real Evos influence in the next Mustang's design.
It appears that Ford's 5.0-liter V8 powers the 2015 Mustang Mule in these shots. While any material, performance-enhancements are tough to discern on this test vehicle, it's clear that this mule's pinched engine bay presents some packaging challenges. The cold air induction boxed has been reshaped, and had to be rerouted due to the tighter confines. Similar changes are visible throughout the engine bay.
The smaller engine bay could pose problems for a new-generation Shelby GT500--at least one like the current version powered by the massive 5.8-liter, Supercharged V8. A motivated Ford could certainly find a way to fit it all in--if they're determined to stick to the classic, over-the-top muscle car formula. But an Ecoboosted 5.0-liter Coyote V8 might make more sense, now that we see how the 2015 Mule is shaping up underneath the current model's body panels.
As we've proven by past photos (also included here), the next Mustang will definitely get an independent rear suspension, and a range of turbocharged four-cylinders are likely as Ford pursues better fuel-economy, and a new global customer base.
EVOS CONCEPT (showing future Ford design language):
Some recent 2015+ Mustang renders: