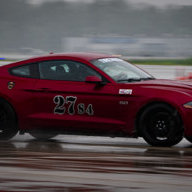 Joined

Oct 26, 2014
Threads
Messages
Reaction score

1,679
Location
Vehicle(s)

Mustangs & F150
Thought I'd a quick review since I have installed these and went through an alignment with these. (for those that don't don't OEM rear alignment adjustment on these car really sucks - it's inboard mount bolt of the camber arm sliding horizontally in the slot in subframe - really inaccurate if you're trying to get equal camber on both sides rather than just get it within spec - which is OK for most)
https://www.spcalignment.com/component/spc/?task=part_description&pid=72370&region=USA&make=Ford&model=Mustang&year=2018 - 2018&from=USAFrom&to=USATo
Pros :
- OEM-like shape single piece aluminum forging - so technically there is less bending compliance vs. multiple-piece designs from others but I am not sure if matters since it would rotate around inboard mount anyway
- Inboard mount is locked out by using a plate so no slip can occur - it is also used for preliminary camber setting as the outboard cam bolt has about a degree of adjustment - so requires doing some math and measurements prior to installation (detailed in the instructions)
- Cam bolt outdoor adjustment is slightly more accurate than threaded bolt adjustors on Steeda / BMR / UPR
- Rubber bushings for less NVH - but again - highly doubt it makes difference
Cons :
- Cam bolt adjuster requires additional tool (thin 1 1/2 inch wrench) that most if not all places will not have
- Cam bolt adjuster is incredibly difficult to get to on aligment rack with wheels on and suspension loaded and is out of (perpendicular) plane to the wheel so there is very little space to turn it
- Rubber bushings so final tightening requires suspension loaded
- Inboard mount bolt (unlike OEM) does not a have plate tack welded to the bolt head for counter-rotation - so requires holding it with the wrench. Anyone that knows where the inboard mount is on a subframe knows how awkward it is to get to from both sides
I haven't tried other designs so can't comment but after being under the car with person doing the alignment, it looks like Steeda's design would be easier to use with little downsides.
If I was buying again (and might be), would buy Steeda.
Pic with a lot of parts (lower control arm, knuckle, shock and spring) out of the way.