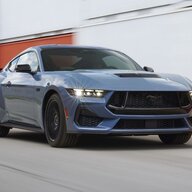 Joined

Aug 31, 2018
Threads
Messages
Reaction score

1,993
Location
First Name

Greg
Vehicle(s)

Mustang V8 GT, Ford Kuga PHEV, Lotus Emira (order)
Hello; Let me try an analogy. Not a perfect analogy. It can take many years for an automaker to come up with a new model. Even for an existing model such as a Mustang the lead up time can be years.
For a completely new platform the lead time is even longer. Auto makers have been doing this for over 100 years. All the experience and time helps them make a vehicle. Yet when the brand new version hits the showrooms that vehicle is indeed brand new. Are all the bugs worked out and all the issues resolved in a new vehicle? Not very often if ever.

It is OK to champion something you have faith in. Just do not expect to convince all of us that a vaccine for a disease that was only first known of in early 2020 is really ten years old. That the vaccines are a wonder is a truth. That they may be the next greatest thing since sliced bread may be true. But they are brand new and the jury has to still be out about possible side effects.

I hear talking heads asking why the FDA does not just go ahead and fully certify the vaccines now? Well my WAG on this is they have not and I am not sure the companies making them are in such a hurry. Once they are fully certified the companies and medical folks are on the hook for liability. Right now they are not. I may be very wrong about this.
See my post below. This is not an analogy that can be used. You need to understand how mRNA vaccines work first before trying to work out your analogy. mRNA vaccines / treatments are
not brand new
. In the not too distant future personalised vaccines will be widely available to treat tumours and other conditions. The whole point about this technology is that it can be used specifically and individually (or en masse) using the same transport process. Believe me if COVID had popped up 10 years ago we would have been a far more desperate situation.
RNA therapies explained (nature.com)
Unlocking the potential of vaccines built on messenger RNA (nature.com)