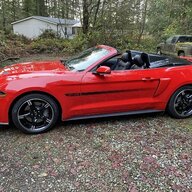 Joined

Nov 18, 2020
Threads
Messages
Reaction score

3,972
Location
Vehicle(s)

2020 Mustang GT/CS Convertible - Race Red
Not to get on a rant, I don't tailgate and actively try not to, but to throw an object towards a vehicle behind you is not only moronic, but extremely dangerous.

I hope that you're not one of the bikers that ride in a row of 50 without a gap for safe passing, either...
So, tailgating a motorcycle with an automobile isn't moronic and extremely dangerous?
I hope you are not one of the car drivers that treats all motorcycle riders like they are in some biker gang and we all should be looked down upon and thought of as a bunch of hooligans splitting lanes.
Actually, you seem more like the oblivious car diver who will just claim, "I didn't see him" after running a motorcyclist over.
I've taken many advanced motorcycle safety training and riding courses where I've been taught by experts from race bike riders to active duty state police motor officers. Some were multi-day courses. I can turn figure-8's all day long inside the lines of a parking spot on a 900lb Valkyrie to dragging a knee at 100mph in a turn on a Hyabusa. I've never been ticketed while riding and I've never crashed in close to a million miles on a motorcycle.
So, basically your assumptions are 180 degrees out of phase.