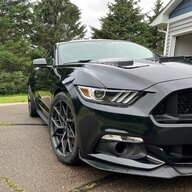 Joined

Nov 26, 2014
Messages
Reaction score

5,887
Location
Vehicle(s)

Mustang, Fiesta
What I find interesting is how certain individuals continue to preach to some of us as to how we are to spend our hard earned money, how we should spend our time whether it be work or play and how we are to enjoy our Shelby Mustangs!

In my case I find I drive some of my cars much more than others but regardless of how we conduct our lives (especially as we get older) whether it be centered around work or around our cool Shelby Mustangs, I would ask that these individuals respect our choices in life just as we need to respect their choices in life even though they are much different than mine.
I completely respect your right to do what you want. Especially when you have multiple GT350s there's no reason to drive all of them.
I'm just advocating for people to drive and enjoy their cars. I saw an episode of Fast n Loud where Richard bought a '63 Corvette from a widow. It had really low miles and she explained how the guy really loved it and never drove it. That story hit me really hard.
We all have a limited amount of time on this earth, and a little more money to our loved ones after we pass is probably not going to make a big difference. I'm advocating for people to live their lives and have fun now. You don't know when that time will come.
I know if I were on my death bed tomorrow - I would not regret having driven my car.
I'm saying all this to let you know that when I encourage people to drive and enjoy their cars - it's coming from a place of love and respect for other car people. I hope you can understand my perspective.