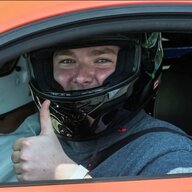 Joined

Nov 3, 2014
Messages
Reaction score

36
Location
First Name

Chris
Vehicle(s)

2015 GT PP
The Build Thread:
Hey Guys - I wanted to start a build thread to not only give others inspiration (as some have for me) but also to keep a timeline throughout the life of this "Pumpkin". Still haven't come up with a name for her yet...
A little about myself -- My name is Chris and I work in the Marketing Dept. at CJ Pony Parts - this is my personal 6G account and build thread. Anyways, I've been a Mustang fanatic all of my life and this is my 4th Mustang. I've owned a 2006 V6, 2004 GT, 2011 GT and now this 2015 EcoBoost. After owning a Coyote and seeing what they're capable of, I wanted to tap into the EcoBoost market as it's new, ever-growing and a drivetrain I'm really excited to learn more about! Not to mention, with all the driving I do between PA, MD and VA, it was definitely the more practical choice.
2015 Mustang EcoBoost
Premium, 201A, 6MT, Performance Package
Competition Orange
Current Modifications:
Engine/Trans:
-
Steeda Tri-Ax Short Throw Shifter (CJPP)
-
Barton Industries Black Reverse Lock Out Adapter (CJPP)
Exhaust:
-
Roush Axle-Back Quad Tip Exhaust Stainless Steel (CJPP)
Suspension:
-
Steeda IRS Subframe Bushing Support System (CJPP)
-
Set of Four CJ Pony Parts Lowering Springs (CJPP)
-
Steeda Front Sway Bar (CJPP)
Wheels:
- Summer Setup - Factory GT Performance Pack Wheels w/ Hankook Ventus V12 evo2's
- Winter Setup - 11-14 Track Package Wheels w/ P-Zero Nero & X-Ice Tires
Lighting:
-
LED Map Light, Glove Box Light and Trunk Light Conversion Kit (CJPP)
-
LED Reverse Light Bulb (CJPP)
-
LED Switchback Turn Signal With Side Marker Cool White Front Kit (CJPP)
-
LED Side Marker Light Smoked Rear Pair 2015-2016 (CJPP)
Exterior:
-
Black Roush Spoiler (CJPP)
-
Anchor Room Full Car Vinyl Light Tint Kit (CJPP)
- Shelby GT350/GT350R Rear Valence
- Factory GT Upper/Lower Grille
- Custom RTR Style Stripes from 13-Three Motorsports
- 35% Window Tint (All Around)
- GT Performance Package Chin Spoiler with
Steeda Front Splitter Kit (CJPP)
Future Planned Modifications:
- A host of Steeda Suspension Mods
- And much, much more!
If you have any questions, comments or suggestions feel free to reply below. Would love to hear what others think!
Update (3/15/2016):
I had to take down my original build thread due to the fact I was taking my car in for a warranty claim on my motor in late January. Long story short, I dropped a ceramic in one of the spark plugs and it eventually led to two burnt valves and more importantly, a bent rod, thus seizing the motor. After keeping the car for two weeks going back and forth with Ford, the dealer notified me that Ford had decided that they will not cover the claim due to the fact there was an aftermarket tune installed on the car -- Yes, the Accessport was uninstalled/umarried. They will know regardless, even down to how many key cycles you had on with the tune installed.
So, I ended up having Ford put a new motor in out of pocket in an effort to keep the factory warranties intact and resale value down the road. Had I wanted to build up this car and make a high horsepower build, I would have picked up a built shortblock and gone from there... but that was never my intention, so I will be keeping the engine factory stock from now on.
Current Photo --
Here's a quick shot of my 2011 GT shortly before it went back to stock to trade in:
Stock Photos --
Last edited: