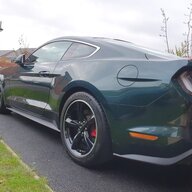 Joined

Jun 2, 2022
Threads
Messages
Reaction score

46
Location
First Name

Matt
Vehicle(s)

Mustang Bullitt
Hi All,
I just wanted to make this post in the hopes one day it will help someone out.
In May of this year I picked up my Bullitt, being overly excited, I dismissed the thousands of comments saying the Recaros are uncomfortable..... As soon as i sat in the driver's seat I realised I had made a big mistake or at the time I thought, I had made a big mistake.
The lumbar adjustment was sticking right out and was extremely uncomfortable, the first thing i went for was the lumbar adjustment button..... which didn't work...... That wasn't a great 5 hour drive home and first impression of my Bullitt.
After reading countless threads on how the Recaros are manual adjustment only (USA) and how the Lumbar is a massive put off when it comes to specing the seats in a Mustang. I just thought this must be normal and just put up with it for a few months.
For the last month or so it has taken its toll on my back and i have been looking at replacing the Bullitt with something that definitely wont have the look or the character of the Bullitt, this is something i didn't really want to do. I havent been able to bring myself to change the car and i though enough is enough I'm tearing the seat down and fixing this issue one way or another.
Turns out the lumbar adjustment motor had a pulled wire on the plug........ Months i have been dealing with an unwanted poke in the back........
I reconnected the wiring, extending the harness slightly because as standard wiring had way too much tension on it (No wonder a wire snapped), and just like that the lumbar adjustment button works. For the first time i have been able to retract the lumbar the whole way and it has made a world of difference.
My Bullitt has gone from that uncomfortable car I have avoided driving to being used daily. Now my Recaros are fully functional they are brilliant and perfectly comfortable.
If anyone has an issue with their lumbar adjustment button not working 100% check the wiring in the back of the seat.
.