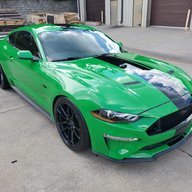 Joined

Feb 6, 2020
Threads
Messages
Reaction score

2,141
Location
First Name

James
Vehicle(s)

2019 Mustang GT Premium with Roush Phase 2, 2017 Corvette Z06, 2018 Subaru WRX, 2015 VW Golf, 2015 Ford Fusion
The problem is Lund will only unlock the Lund branded ngauge (I assume you will have to buy their tune). If it is the HPT nguage, you are pretty much out of luck. Also, not many other companies are using the nGuage to upload tunes these days and if it is a Lund one, then no other company other than Lund will be able to unlock it.
the ngauge will work just fine however because the company that makes them went under there wont be any new updates to the software for them and once they die you are kinda sol. i have an ngauge and starting to deal with screen issues in terms of the touch screen. screen works just fine but the sensitivity is lacking like ill push a button and a different button will register.

as for unlocks i believe lund locks their ngauges so that you can only load their tunes thru it. unlocking it (i believe, but could be wrong) allows you to load another company tune to the device. if you were to sell it to someone you would want to unmarry it from your car so it can be married to the buyers car.