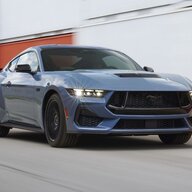 Joined

Aug 31, 2018
Threads
Messages
Reaction score

2,062
Location
First Name

Greg
Vehicle(s)

Mustang V8 GT, Ford Kuga PHEV, Lotus Emira (order)
Frankly, I don't quite get why we should be expected to pay fifty thousand euros just for the engine and looks. I don't see why a €20K Focus can have lots of extras and a build quality to die for, while a €50K Mustang must be forgiven for its lousy build quality and short list of options on the grounds that it has a great engine.
How much can a V8 cost? Is an engine block with eight holes ten times more expensive than one with four? Are four extra pistons and four extra sets of valves and four extra spark plugs worth their weight in gold? How much is a standalone Coyote engine? $10K perhaps? So the remaining 40K must account for the car itself, musn't it? So why wouldn't it be fair to expect at least the same level of quality as we would from a €30K European model?

Let's remove the engine from the equation. Let's look at a manual Ecoboost. A 2.3 litre turbocharged straight-four, similar to what the other Ford models have. No Brembo brakes, no fancy gearbox, no nothing. And yet it's noticeably more expensive than most of Ford's European models, with less options and a poorer build quality. Where's the logic in that?
OK, I have no problem paying extra for a bit of exclusivity. But then don't scrimp on the options and build quality and say "the car is cheap, you're paying for the engine". No, it's not cheap, and I'm not paying €50K for an engine.
Agree with all of that. Build quality doesn't cost money ! It is possible to build a Mustang properly (mine was, ish) but it cost the same to build mine as the others they threw together with a hammer and nails. Now, some build quality is designed in as well (as in easy to build properly) but Ford US have access to the same tools as Ford elsewhere and basics such as paintwork and panel fit cost the same however you do it. I saw a picture on here of a Bullitt with no paint on the drivers door jam - how is that ever acceptable ?
Trim materials is a different matter, but again Ford Europe do a much better job with some of their materials such as the Vignale spec Mondeo I had so the resources are there, and don't cost that much more to build that way.
One thing in Ford's defence, shipping a car to the UK from the US does cost money compared to locally produced car.