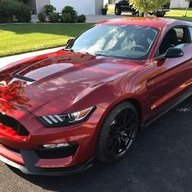 Joined

Oct 29, 2014
Threads
Messages
Reaction score

61
Location
First Name

Joe
Vehicle(s)

2017 Ruby Red GT 350
Hello everyone,
This is my first post on the forums and I couldn't think of a better way to do it than to let people see my new ruby red 2015! I've been lurking these forums for the last 5 or 6 months and I've been keeping tabs on the ordering / delivery process for a lot of users and I'd like to congratulate everyone who has gotten their cars, and to everyone who hasn't, may the time fly by!
I traded in my 2011 GT with Track Pack to get this 2015, and I have to say I'm blown away by just about everything. The appearance of the car and just the overall stance are stunning, and the feel of everything from the interior to the shifter are leaps and bounds better than my 2011. I am using the 3.15 gears instead of the 3.73 from my 2011, so I can tell a difference there in the low end, but on the plus side my gas mileage has been averaging about 26 MPG a tank, which is +5 over my 2011. The ride quality is simply fantastic. It's as close to driving a Honda Accord with 435 horsepower as it gets.
The interior and all of it's gadgets are awesome too. I have the 401a package on my car, and I do enjoy the stereo system a lot. It's not that I haven't had better, because I have, but the fact that it comes with the car and I don't have to mess with anything else is pretty good. It sounds good as long as you play with the settings a little bit, and it's plenty loud for me.
The biggest upgrade in my opinion, however, is the shifter. My 2011 had a MGW shifter in it, and although the shifter was great, the transmission was not. This transmission is smooth as butter to shift and the shifter feels great as well, extremely smooth.
I checked my car for body panel issues before I bought it and I didn't see any. The hood lines up great, and closing it was not as hard as others on here have described. As soon as I saw the ruby red exterior color matched with the ceramic interior, i was sold. The combination is nothing short of amazing in my opinion. I plan on upgrading the exhaust as soon as Borla comes out with their setup. I'll post a few better pictures when I get them, but in the meantime I'm busy driving!