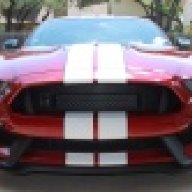 First Ford - First Shelby
Joined

Nov 15, 2017
Threads
Messages
Reaction score

149
Location
Vehicle(s)

2017 Shelby GT350-Conven Pkg - 1st Perf Mods Done
Research
Hi all,

My name is Scott and the owner of Antigravity Batteries and one of the posters here brought my attention to this thread... So I wanted to come on here and answer any questions and give the straight facts about lithium and it Pros and potential Cons. And probably most important is just to educate you guys on Lithium, then also figure out what's going on in some of the cars that some of you have been having issues with. The reason that I quote the post above, is just to point out there is a serious lack of understanding in a broader perspective of Lithium and it applications and uses, and how to actually select the size you might want too. As well, I need information to educate myself in some of the issues some of you might be having with the newer charging systems.....

I will tell you, I will always speak to you factually. I will not try to oversell our products or push them on anyone. They are a newer technology, often misunderstood, and additionally they require a different maintenance practice than lead acid batteries. They do require a lithium dedicated charger if you're in a position to have to maintain or charge the battery using and off the shelf charger. So there are inherent differences when using a lithium battery versus a lead acid battery... So I'm here to assist with answering those questions, and giving you the straight answers that will help you decide if this is a product that you want to use in your application. It is actually very easy to run a Lithium battery in a car... but you have to understand certain things about your cars, it Parasitic draw, if you put aftermarket parts on it that create a higher parastic draw, or if you let you Lithium Battery over-discharge.

I saw a few angry negative posts.... like the one by XAnchormanX, saying the product is garbage, and his buddy owns a race shop and has a rack of ruined Lithium Batteries..... Being blunt that speaks more to the USER than the battery.... A lithium battery does not spontaneously fail nor is it a piece of garbage. Its rated at twice the "cycles" achieveable by Lead, so if maintained you generally going to get a much longer life cycle.. but within that you have a smaller battery you might have to maintain more often. Admittedly, it may not be the best for your applications if you cannot understand the maintenance that it works best in. The fact is the batteries perform flawless in tens of thousands of applications, and the other fact is they can also fail in certain circumstances which I will explain, and often due to user error of mainly OVER-DISCHARGING the battery, which could be an innocent mistake.. but none the less it damages the battery. But they absolutely do work and have worked in everything from daily drivers to world-class racing or we would not be here.

So I'm not here to try to sell you our product, I'm not here to tell you it's the best thing since sliced bread. I'm here to try to educate you so you can make the best decision. It is not perfect for all applications, and it certainly isn't perfect if you think you can just treat it like your lead acid battery and put a lead acid charger on it, or allow it to over-discharge below 10.5 V, and let it sit in overdischarge state. So after I explained to you the facts about lithium you will then be in a position to realize what causes a lithium battery to fail, and then know if that is in acceptable risk for you.

But there is another side of that story, we at Antigravity Batteries DON"T know every car perfectly. We have been in Mustangs for YEARS and companies have made mounts sprecifically for our battery... and I know that battery has worked fantastic for 95% more than it has failed for.... But most recently we have heard of it not working with the latest version of the Mustang.... so I'm a bit confused because I have only heard of this one one of a few of the Mustangs while other have worked fine.... so I don't know what is up. So I would love to have a open discussion with some of you.

So I will post up some Lithium facts in another post in a little bit, then those of you who can assist in some of the technical stuff can help me better understand any recent changes... because in theory the RE-START models should work fine in the Cars... so I have to find the years of those who say they had an issue. We developed the RE-START technology to prevent people from Damaging the Batteries because most damage was from over-discharging the battery, which damages any battery be it lead acid or lithium... So I'm trying to look into this to because this is a new problem for us, if it is even a problem, we have to figure out what's going on because we have not dealt with that before.
Thanks for posting. Sounds like it would be prudent for you to do some follow-up research based on posts 26 and 27. I realize you are
A small business but perhaps you can get at least two "donor" GT350s
To do your R & D on. Unfortunately, some of us in the past have been unwitting beta testers for products on our expensive toys.