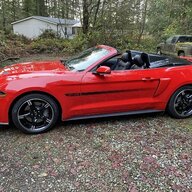 Joined

Nov 18, 2020
Messages
Reaction score

1,986
Location
Vehicle(s)

2020 Mustang GT/CS Convertible - Race Red
no. I'm sorry, but you miss the point either way. The thread is not to rant in vain about cost savings in general. This is clearly inevitable and not something we can impact. I guess it's safe to say that it's healthy for the industry in general. Neither the thread is about all the different ways humans can use to emit some light somewhere. Believe me, I know what a flashlight is, and I'm capable of searching Amazon myself. And yes, I know what money are and how they work.

This thread is about DIY methods to achieve

the same

(or almost the same) as factory illumination on pre-2021 models. I.e. without clumsy bolt-on options which are sub-par by definition. (They take space and require extra effort to turn them on or off.)

So far, it looks like the part number found by

@Bikeman315

was spot on, and I'm thankful for that. Now I need to figure out the wiring. But I'm ham-fisted so I would rather prefer the dealer or independent shop do this for me. Thus, no update from my side yet. But I will get there, eventually.

While I appreciate your sense of humor, it certainly does not contribute to staying on topic. It does however bump the thread up, so please keep going.
If you can't get someone to install or it is too expensive, hit me up and I can help you out.
I have the light in my 2020, swapped out the bulb with a red led, so I have some experience with it. The wiring should be trivial. I have the service manual too for reference.