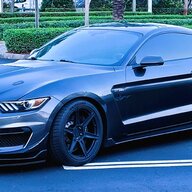 Joined

Jun 21, 2020
Threads
Messages
Reaction score

1,770
Location
Vehicle(s)

2016 GT350
Ford should have never fielded a 12:1 compression motor without the DI on the gen3. 93 is just too unpredictable and one gulp of questionable fuel is enough to do bad things to high compression engines.

I'm convinced the voodoo does MUCH better on E85 than it does on 93. I have no data or anything to back that up, but after my first tune N/A I installed an Nguage and one of the things I watched was spark and knock retard and I was shocked how much the knock sensors were working even when it didn't feel or hear like anything abnormal.

With the cruise on in 6th gear at 75 mph, even the slightest incline would have the motor pulling timing (and you'd never know it without an Ngauge or computer/datalogger sitting in the seat beside you). I think the car/motor just liked E85 better, not just for the bump in power and torque, but the knock sensors just seemed happier in every condition.

High ambient temps (and corresponding IAT's) and high compression is very demanding of the fuel.