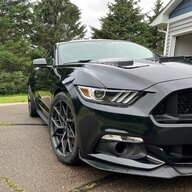 Joined

Nov 26, 2014
Messages
Reaction score

5,557
Location
Vehicle(s)

Mustang, Fiesta
I stated my opinion, and you stated yours, but you think your opinion has more value than mine. So yes, you are insecure. I have not said anything anti ford. I said I hope the gt500 does better but I dont think it will. Now here are the facts. Same size tires as the GT350R. I dont know why you keep saying otherwise. Look it up. Just because you say something, doesnt make it true. They are 305 front, 315 rear. Another fact you can easily look up, they ARE the same compound. Cup 2s for the OPTIONAL tire, the 4S from the PP1 as the standard tire. Another fact is that it will not be lighter than a 350R, and it will have more weight over the front axle just based on the power train set up alone. The DCT is not a transaxle, so that wont help weight distribution either.

So, stop being so blinded by a car brand and keep your mind open a little bit. You argue like a child and I'm done with you. Once again, I said, "I think" certain things, not that they were facts, but I have presented you with FACTS you can look up on your own. Based on those facts, and what I have seen on the car, I have an opinion on how it will compete with the Zl1 on a road course.
You say I argue like a child and that I'm insecure. Why can't you just discuss cars rather than insulting me? Most of your emotional, non-factual statements have been anti Ford. "not in the same league", "limits have been tapped". I might be biased, but I think I am seeing things a lot closer to reality than you.
You say you think adding 200 HP won't make the car faster. Not a reasonable opinion. It makes you seem very biased.
It says right in the Ford press release that the tires are wider. I think you have information about the 4S tires rather than the track Cup 2 tires. From what I've read the Cup 2s are wider - maybe it's only the rears that are wider, but the press release says specifically 1/2 inch wider. Someone even posted that in this thread - maybe you ignored it because it doesn't support your narrative. Do you want to compare the fastest Chevy model available to the slower options on the Ford? If you do, that would make you biased against the Ford, don't you think?
Just because the tire is named Cup 2 doesn't mean it has a specific compound. If you do a little research you will find that Michelin uses different compounds for different applications, but still uses the same names. They don't have a unique name for every different tire compound. For example, many of the GT350 guys use Porsche tires that must have a slightly different compound because they have been found to last longer than the factory spec tires. They have the same Michelin name, though.
I agree with your weight distribution information, but you are failing to take into account that the same weight distribution issues are present in the Camaro. And the Camaro doesn't have carbon fiber wheels. I expect the power to weight ratio on the GT500 will be improved over the GT350 and that will mean superior acceleration at higher speeds on track.