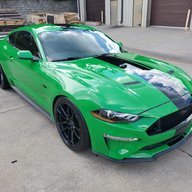 Joined

Feb 6, 2020
Threads
Messages
Reaction score

2,141
Location
First Name

James
Vehicle(s)

2019 Mustang GT Premium with Roush Phase 2, 2017 Corvette Z06, 2018 Subaru WRX, 2015 VW Golf, 2015 Ford Fusion
Hello everyone, I'm new here on the site but have been posting a little lately. I decided to do a build thread to help me track things as I do them. Background: I'm probably a little older than many on here but younger than some
but hey that doesn't stop the fun. The car is a 2019 GT Premium 401A, 6 Speed, Roush Phase 2, 3:55 rear axle, Safe and Smart and B&O Premium Sound System. The only option that I wished it had would be the Active Exhaust. If you are wondering why I don't wish for either of the Performance Packs, stay tuned.
I flew to Cincinnati to pick up the car from Lebanon Ford, well known for their performance builds; I drove it the 575 miles back to Georgia. It was a great experience and was nice to have Josh, the Perfomance Manager explain all the mechanicals. He made sure that I knew the engine would live on 5w50 full synthic oil and 93 octane for the rest of its life.
There has been a slight hiccup with the car. The Service engine light came on about 150 miles south of the dealership in Lebanon. Called up Josh and he had me to pull into an Auto Zone to have the code/s read. They came up as Knock Sensor #3 Right bank. We went through a quick check list......what octane gas was I running; still had the original 93 octane fill from the dealership. Reset Light and fill up with Shell Vitro 93 octane, and light came back on. Next, it was determined that the car was not down on power and not pulling power, so 100 percent sure that the # Knock Sensor is faulty. He called and told me of the Roush dealers within 200 miles of my location. Called the first two within 100 miles and though they both sell Roush vehicles, they declined the opportunity to work on it, stating that it was too intensive for their technicans....at least they were honest. Found another dealership about 130 miles away and they said their only Roush technican is book until the end of May but did give me a recommendation for a dealership that supposedly has one of the best Roush technicans in Georgia. I will call them tomorrow and try to schedule something. I've already learned that though the codes have been read and we know what the problem is, the servicing dealership will have me come in to run their diagnostics and to order the parts and then "return" to drop it off for at least two days to have the part changed. The selling dealership has promised to make things right....I'll see what they have to say about a rental car and possibly a hotel for a couple of days. I'm hoping it will be positive. OK, enough of that.
I arrived home with the car on Saturday night. Sunday morning I removed the Xpel Trac Wrap that I had put on the entire front end, mirrors, and wheel debris strike areas. It did a great job. Then I put on the Velgen VF5 20x11 rear and 20x10 fronts with Mickey Thompson Street Comp tires sized 305/35R20 and 275/35R20.
Yesterday, Day 2 I had the Steeda Progressive Springs with their bumpstops installed. Front drop is supposed to be 1.25 and rear 1.0. You can judge for yourself from the before and after pics.
I have purchased and plan to install the Steeda Jacking Rails and Steeda H-Pipe this week. I'm going to do a little experimenting with adding a Roush Axle Back and then the Steeda Axle Back and see which gives the sound that I am looking for.
Before Lowering
Steeda Progressive Springs