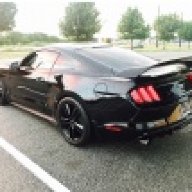 Joined

Oct 8, 2015
Posts
Reaction score

33
Location
First Name

Aaron
Vehicle(s)

2015 Mustang EB Manual w/PP
Hey guys!
So recently I just installed Vargas's stage 2 twinscroll turbo. Install took longer than I would've like but it was my first turbo swap so lots of fun learning .
Here's the turbo fresh out the box with that oh so lovely corrosion inhibiting oil smell.
Old turbo paper weight on left and new baby child turbo on right , old turbo still had my wastegate actuator from turbosmart, but I swapped it over of course. Pretty cool huh
Those coolant lines were a pain to get out and to get back in once I replaced the o-rings :frusty:
Luckily no leaks after I get the car started so whooo!
After everything was put back together and the car was started, I had no idea how to bleed the air out of the cooling system.....I had the cap off forever waiting for the fluid level to go back down after putting back what I drained. Well apparently he internet says our overflow tank bleed themselves so I thought that was pretty cool.
Things I noticed on my first drive,
The car sounds amazing! The exhaust sounds fuller and has more of an aggressive tone to it.
Significant spool up sound, I was barely able to hear it before but now you can hear just going in between lights. Kewl
Stock blowoff valve needs to get replaced because you can hear it shudder all the damn time. I'll be in traffic and you hear a shudder when I let off the gas. I was reading the threads about which one to go with (electronic or mechanical) I still haven't decided yet but it feels pretty important so we'll see.
As far as tuning goes Adam sent me a basic 93 oct file to get started with but I still have half a tank of E30 -_- soooooo, I'm gonna have to wait till I can refuel with 93. Then I'll send over some logs to get it dialed in, I honestly wanna just drive around so I can get this over with lol. Oh also I'm going to be heading to the dyno once everything is dialed in. So I'll post results of 93 and E30, maybe by the end of month.