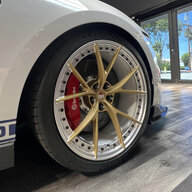 Well-Known Member
Diamond Sponsor
Joined

Nov 17, 2014
Messages
Reaction score

4,284
Location
Website
First Name

N4SM Team
Vehicle(s)

S550 Mustang & Shelby GT350 platform
:cheers:
PLEASE SEE LAST PAGE FOR BLACK FRIDAY SPECIALS
:cheers:
Ferrada Wheels
|
FR1 FR2
|
Need4SpeedMotorsports
Ferrada Wheels is dedicated to providing the highest-quality wheels that possess a winning combination of unique design and elegant craftsmanship. Ferrada Wheels offers sizes that range from 19" to 22" and width of 9" to 11.5". Ferrada Wheels meet the JWL and VIA requirements to ensure that the highest quality of craftsmanship goes into making each and every single wheel they produce. Ferrada Wheels has one goal and that is to provide their clients with excellent and nothing less than perfection to exceed expectations and redefine the industry of luxury wheels.
Ferrada Wheels Key Features:
-Available Sizes: 20x9.0 | 20x10.5 | 20x11.5
-Finishes: Machine Silver w/ Chrome Lip | Matte Black w/ Gloss Black Lip
-Available in Staggered Setup, Squared Setup, Standard Setup
-Compatible with OEM TPMS Sensors
-JWL and VIA CertifiedLifetime Warranty on Wheel Structure
-20x11.5 is for wide body application vehicles

Ferrada FR1 Silver Machined w/ Gloss Black Lip
Ferrada FR1 Matte Black w/ Gloss Black Lip
Ferrada FR1 Matte Bronze w/ Gloss Black Lip
Ferrada FR2 Silver Machined w/ Chrome Lip
Ferrada FR2 Matte Black w/ Gloss Lip
Ferrada FR2 Matte Bronze w/ Gloss Lip
Ferrada FR3 Matte Black W/ Gloss Lip
Ferrada FR3 Silver Machined W/ Chrome Lip
Ferrada FR3 Matte Bronze W/ Gloss Black Lip
Ferrada FR4 Silver Machined W/ Chrome Lip
Ferrada FR4 Matte Black W/ Gloss Lip
Ferrada FR4 Matte Bronze W/ Gloss Black Lip
LOCATION IS KEY...PROCESSING YOUR ORDERS IN RECORD TIME
You will be pleased to know that Need 4 Speed Motorsports is located in the "nucleus" of some of the world's best aftermarket manufacturers. This allows us to receive and process your orders in record time. Our close proximity to vendors also allows to to service current clients with warranty issues, replacements, and or exchanges in most cases within one business day.
HUGE INVENTORY | FAST PROCESSING TIME | WORLD WIDE SHIPPING
We believe that the enthusiast passion should not be limited by any geographical location, which is why we provide worldwide shipping services to ensure that your products reach your door step regardless where you are located.
With our 24-48 hour processing time on products in stock and multiple fulfillment warehouses, we are able to have your order delivered to you as early 1-5 business days.
INSPECTION PROCESS
Just like "Power is nothing without Control", we believe that speed is nothing without accuracy.
You will be happy to know that almost every single product passes through our three stage inspection process before being sent on its way to you. In the first stage, one of our experienced warehouse team members inspects each and every product entering our warehouse, a second inspection is completed during the mounting and balancing stage, and a final inspection is conducted in the packaging and handling stage.
DOMESTIC SHIPPING
The map below represents the time in transit for all our shipments being delivered in the continental United States. Please keep in mind that our processing time is between 24 to 48 hours on products that are in-stock in our warehouse.
INTERNATIONAL SHIPPING
We offer worldwide shipping to almost every country in the world.
We work with the world's best shipping companies to ensure that your order get to you in a timely manner and in perfect condition.
You will be happy to know that we are constantly comparing shipping companies costs
to be able to provide you with the most competitive shipping rates.
Please contact our international customer service department at 1-818-547-5474 for rate quotes and transit times to your specific location.
How to Place Your Order
Phone Domestic:
Toll-Free 1-888 714-7467
Phone International:
1-818 547-5474
Website:
www.N4SM.com
Please do not hesitate to contact us should you have any questions.
We have over 70 years of combined experience and 13 years of hands on experience in the automotive industry.
Payment:
Credit/Debit Cards:
Visa, Mastercard, Discover, and American Express.
We can process your payment right over the phone and online on our website.
Paypal:
Visa, Mastercard, Discover, and American Express.
Bank Wire Transfer:
We accept direct wire transfers to make it easy for you place order.
Please contact us so that we can email you more information & instructions.
Shipping:
All orders are shipped via FedEx Domestic and International.
If you are located in Hawaii, Alaska, or international, please e-mail, pm, or call us for the most competitive rates.
Hours of Operation:
Monday through Friday from 8:00 a.m. to 6:00 p.m. PST
Saturday from 9:00 a.m. to 3:00 p.m. Pacific PST
Our website is open 24 hours a day / 365 days a year!
Contact Information:
Website:
Home Need4Speed Motorsports
If you have any questions or concerns, do not hesitate to contact us. We are here to help you!
​
Last edited: