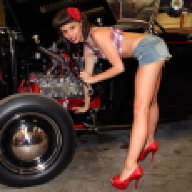 Mustang is my middle name
I've been saying since the Bullitt was announced it should have had the PPL2 on it stock or an option, just no lip/spoiler and the different wheels/tires.

The fact the Ford Performance Handling kit is just 900-1000, and the PPL2 is higher production/cheaper parts, they should have easily done it and only raised the prices by 900-1500.
The Current Mach 1 should have been called BOSS 5.0 and the Mach 1 should have been a more drag racing style with maybe 325's in the rear and 235's up front, a factory supercharger and some kind of hood scoop and cool graphics, sort of a street legal Cobra Jet.
Last edited: