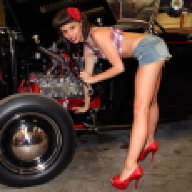 Mustang is my middle name
I bought the kit from AutoDesign, I worked with them for a week or two to get the design right, they do a lot of Martini stripes for Porsches and I wanted the same colors, and they were able to match it up with the OEM Mach 1 design while keeping some of the Martini design as well.

For prep I cleaned the car and then used a 70% Alcohol mix to prep the surface where the vinyl was going on. We'll see if I get good adhesion, seems like it right now, but time will tell.

Stripes were dry application 3M, pretty easy to work with and as I got the hang of it I minimized some of my early mistakes.

This was my first time doing auto vinyl, and my wife was my extra pair of hands when needed. It took about 4 hours total, with about 30-45 extra minutes for the sharkfin.

The hood stripe is the one that is the least perfect with some obvious flaws, if I'm still loving the kit in a year or so, I'll probably pull the hood and order a new one to try again with.

Surprising challenge was removing the stupid shark fin to lay the vinyl underneath. Just not a lot of room to work under the headliner to get a wrench in there to loosen up the antenna and remove it.

Main reason I did it myself was that I was getting quoted 500-600 dollars to have it installed, the kit itself was only $380.00, so I figured I could mess the whole thing up, but learn how to do it, order the set again, install it, and still be ahead.
I tried to get them to work with me on mine and never heard back from them. Ended up going with a semi-local shop and it ran about a grand installed. The materials were about $450 and the rest was labor.