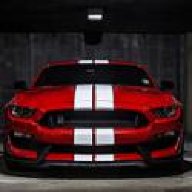 Joined

Jul 28, 2015
Messages
Reaction score

1,520
Location
Website
First Name

Alton J.
Vehicle(s)

2017 Race Red GT350
So just a little bit of background about me prior to some pics -- this is my first mustang that I've purchased. My previous and first car was an 08 dodge charger SE and I've been wanting to get a mustang ever since my career in information security got supercharged.
Fast forward to a few months ago, I went into my dealership and traded it in for a 15' gt premium vert (magnetic metallic). My only regret that I have from time to time is getting it in an automatic. I've never driven a manual before other than the practice I had at the dealership before getting my vert. It was pretty intimidating as I stalled the car twice before even getting out of the parking lot, and twice in the middle of the road. Also, there weren't many GT Premium verts in yellow, red, or white, anywhere near the area, and I didn't really want to deal with shipping being that I was new to this whole process. The whole sales process can be a bit stressful as it is, and I didn't need any more of it.
I've never modded my first car, so I'm pretty new to modding a car in general. That being said, I'm learning about the car as I go on. No intentions on being the fastest guy around the city or anything; however, I just wanted my stang to be nice, fast, and unique to the mustang community and surrounding areas.
Current mods are below. Updated on 06/23/16.
Exterior:
Roush Complete Fascia Kit
Roush Hood Scoop
Roush Rocker Winglets
Roush Side Scoops
Roush Heat Extractors
Roush Windshield Decal
CDC Outlaw Spoiler
Red Caliper Paint
20% tint on driver/passenger, 10% back and windshield strip
Carbon Fiber License Plate Frame
Roush badges (replaced 5.0 emblems)
FRPP Rear Decklid
Custom ROUSH decklid
Suspension
Steeda Sport Progressive Lowering Springs
Steeda IRS Sub Frame Bushings
Steeda IRS Sub Frame Alignment Kit
Exhaust
Corsa Xtremes w/ double x-pipe (video:
)
Kooks LT 1-7/8" Headers
Wheels/Tires
Gunmetal Velgen VMB6 (sizes: 20x10.5 and 20x9)
Nitto INVOs (sizes: 295/35/20 and 275/35/20)
Under the hood
Roush Phase 2 SC Kit
JLT Oil Catch Can
Redline Tuning Hood Struts
Mishimoto Black Coolant Reservoir Tankt
Anderson Composites Carbon Fiber Radiator Cover
VMP Dual Fan Triple Pass Heat Exchanger
Lund tune w/ Ngauge
Lighting
Diode Dynamics Blue LED Interior Lights
Diode Dynamics Switchback Kit
Diode Dynamics 4th Brake Light
Diode Dynamics Sequential Taillights (ordered from [MENTION=13019]UPRSteve[/MENTION])
(removed) Diode Dynamics RGB Fog Lights (video:
)
H11 XP80 Cool White LED fog lights from Diode Dynamics
Diode Dynamics HID Replacements
Diode Dynamics LED Rear Side Markers
Diode Dynamics RGBWA LEDs
Interior
Lloyd Black Floor Mats (w/ GT logo)
Escort Passport 9500ix Radar Detector (hardwired)
Thinkware F750 Dash Cam (hardwired (guide:
http://www.mustang6g.com/forums/showthread.php?t=31560
))
GT350R Steering Wheel
CDC Carbon Fiber Light Bar
Upcoming mods include:
Steeda Sway Front and Rear Sway Bars
Steeda S550 Mustang Billet Aluminum Vertical Links
BMR Bushing Cradle Lockout Kit
Now for the good part, pictures! All old pictures (from when I got the car and a few mods later) can be found on my photobucket here if you're interested:
http://s562.photobucket.com/user/altjx/library/2015 GT Premium Vert?sort=3&page=1
Enjoy!
More cool shots posted further down in my build thread (if you know how to ctrl + click for multiple tabs
):
http://www.mustang6g.com/forums/showpost.php?p=944702&postcount=144
http://www.mustang6g.com/forums/showpost.php?p=917544&postcount=131
http://www.mustang6g.com/forums/showpost.php?p=955094&postcount=149
http://www.mustang6g.com/forums/showpost.php?p=974385&postcount=193
http://www.mustang6g.com/forums/showpost.php?p=992677&postcount=209
http://www.mustang6g.com/forums/showpost.php?p=1046793&postcount=259
http://www.mustang6g.com/forums/showpost.php?p=1057588&postcount=281
http://www.mustang6g.com/forums/showpost.php?p=1058304&postcount=291
http://www.mustang6g.com/forums/showpost.php?p=1060062&postcount=301
http://www.mustang6g.com/forums/showpost.php?p=1063485&postcount=302
http://www.mustang6g.com/forums/showpost.php?p=1077201&postcount=311
http://www.mustang6g.com/forums/showpost.php?p=1102353&postcount=317
http://www.mustang6g.com/forums/showpost.php?p=1117923&postcount=339
http://www.mustang6g.com/forums/showpost.php?p=1121653&postcount=345
http://www.mustang6g.com/forums/showpost.php?p=1126326&postcount=353
http://www.mustang6g.com/forums/showpost.php?p=1130209&postcount=359
http://www.mustang6g.com/forums/showpost.php?p=1140625&postcount=361
http://www.mustang6g.com/forums/showpost.php?p=1148359&postcount=367
http://www.mustang6g.com/forums/showpost.php?p=1149371&postcount=373
http://www.mustang6g.com/forums/showpost.php?p=1152327&postcount=379
http://www.mustang6g.com/forums/showpost.php?p=1158850&postcount=392
http://www.mustang6g.com/forums/showpost.php?p=1177420&postcount=417
http://www.mustang6g.com/forums/showpost.php?p=1186368&postcount=428
http://www.mustang6g.com/forums/showpost.php?p=1190215&postcount=430
http://www.mustang6g.com/forums/showpost.php?p=1195166&postcount=450
http://www.mustang6g.com/forums/showpost.php?p=1199355&postcount=455
http://www.mustang6g.com/forums/showpost.php?p=1202321&postcount=458
http://www.mustang6g.com/forums/showpost.php?p=1208358&postcount=459
http://www.mustang6g.com/forums/showpost.php?p=1224062&postcount=465
(disconnected bumper, decklid, headlights, and wheels in preparation for Diode Dynamics RGBWA lights, custom roush letters, and wheel powdercoating)
http://www.mustang6g.com/forums/showpost.php?p=1226137&postcount=466
(installed custom ROUSH decklid)
And more new pics:
http://photography.altonj.com
-> my Flickr page
Compliments caught on dash cam:
(just some fun caught on camera)
(**favorite lol**)
A little fun with some other folks in the city:
Dyno:
Exhaust videos:
(corsa sports)
(corsa xtreme 20mph flyby)
(corsa sports vs xtreme cold start)
(corsa xtremes exhaust, takeoff, and flyby)
(corsa xtreme + kooks LT headers + roush phase 2 blower)
Features:
Roush: Roush: Roush: Roush: Steeda: Steeda: Steeda: Velgen: Velgen:
http://velgenwheels.com/project/mustang-s550-vert-velgen-wheels-vmb6-matte-gunmetal-20x9-20x10-5/
Mustang of the Month (MOTM):
(by [MENTION=13665]V8Venom[/MENTION])
Last edited: