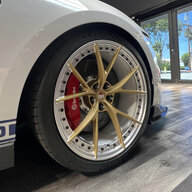 Well-Known Member
Diamond Sponsor
Joined

Nov 17, 2014
Messages
Reaction score

4,283
Location
Website
First Name

N4SM Team
Vehicle(s)

S550 Mustang & Shelby GT350 platform
4 Enthusiasts...By Enthusiasts
Happy Friday fellow enthusiasts. It is with great honor and privilege that we officially introduce Project 6GR's new design for 2018.
Respectfully the wheel is called Project 6GR - TEN. The Ten of course referring to wheel spoke design.
The Project 6GR 10-spoke design has been in development as a collaboration between our wheel designers and also fellow enthusiasts like yourself.
We have been paying close attention, listening, and taking notes very carefully to be able to deliver exactly what you have asked for.
The end result of this teamwork is this simple & clean 10 spoke design to make any Mustang stand out from the crowd. We would like to thank everyone that provided their suggestions, comments, and feedback.
The spokes extending to the edge of the barrel provide a "larger" overall diameter appearance and also aids in providing strength.
The larger openings in-between the ten spokes will allow for the maximum viability of the nice braking components equipped on the S550 platform, especially those nice Brembo brakes.
The best part is the fitment specifications will remain the same as the initial Seven and Five spoke design.
Meaning the same deep concave design and new badass look will be present on both the front and rear wheels.
The Shelby GT350 owners will have the R-spec option once more which uses 19x11 front and 19x11.5 rear with its super deep dual concave front and rear.
We are happy to show our Mustang 6G members the first products and renderings. We will be offer Pre-orders. The Project 6GR Ten will be available May-June!
Current 6GR owners will be getting special pricing.
We are also developing a B-spoke custom program where we will offer the wheels as raw. As a raw wheel you will be able custom select your offset, width, and finish with almost any color finish of your choice.

Wheel Brand:
Project 6GR Wheels
Wheel Model:
TEN
Wheel Construction:
Latest Spun Forged Technology (Rotary Forged)
Wheels Sizes Available :
Front: 19x10.0 / 20x10.0 & Rear 19x11.0 / 20x11.0
R-Spec Setup: Front 19x11.0 & Rear 19x11.5
Concave Profiles:
Front Deep Concave | Rear Deep Concave
Bolt Pattern:
5x114.3
Center Bore:
70.6(Hub Centric)
Standard Finish :
Gloss Black | Satin Graphite | Satin Black
**Custom Finishes Upon Request **
Fitment Guide:
2005-2014 S197
2015-2018 S550
2015-2018 Shelby GT350/R
PM, Email or Call us for any questions you may have..
818-547-5474
Erick
[email protected]
Technical Specifications
Construction: Spun Forged technology
Available sizes: 19x10, 19x11, 19x11.5, 20x10, 20x11
Available Standard Finishes: Satin Black, Satin Graphite, and Gloss Black
-100% Compatible with Tire Pressure Monitoring System (TPMS)
-100% Compatible with Factory OEM center cap
-100% Compatible with all factory braking system including Brembo both GT and Shelby GT350/R
Hub-centric design to ensure fitment just like the factory
Considering our close proximity to most aftermarket manufacturers,
we are able to correct any mistake and or "not so perfect" products in as little as one day before sending them on their way to you.
Since we are enthusiast ourselves, we know the feeling of anticipation and excitement that builds waiting for your parts to arrive.
Let us assure you that with our fast processing time, three stage inspection process,
and world-class packaging, you will receive your order
in a timely manner without any damages.
We believe that the enthusiast passion should not be limited by any geographical location, which is why we provide worldwide
shipping services to ensure that your products reach your door step regardless where you are located.
With our 24-48 hour processing time on products in stock and multiple fulfillment warehouses, we are
able to have your order delivered to you as early 1-5 business days.
Just like "Power is nothing without Control", we believe that speed is nothing without accuracy.
You will be happy to know that almost every single product passes through our three stage inspection process before being
sent on its way to you. In the first stage, one of our experienced warehouse team members inspects each and every
product entering our warehouse, a second inspection is completed during the mounting and balancing stage,
and a final inspection is conducted in the packaging and handling stage.
DOMESTIC SHIPPING
The map below represents the time in transit for all our shipments being delivered in the continental United States.
Please keep in mind that our processing time is between 24 to 48 hours on products that are in-stock in our warehouse.
INTERNATIONAL SHIPPING
We offer worldwide shipping to almost every country in the world.
We work with the world's best shipping companies to ensure that your order get to you in a timely manner and in perfect condition.
You will be happy to know that we are always comparing shipping companies costs
to be able to provide you with the most competitive shipping rates.
Please contact our international customer service department at 1-818-547-5474 for rate
quotes and transit times to your specific location.
How to Place Your Order
Phone Domestic:
1-818-476-6976
Phone International:
1-818-547-5474
E-mail:
[email protected]
Website:
www.N4SM.com
Please do not hesitate to contact us should you have any questions.
We have over 70 years of combined experience and 13 years of hands on experience in the automotive industry.
Credit/Debit Cards:
Visa, Mastercard, Discover, and American Express.
We can process your payment right over the phone and online on our website.
Paypal:
Visa, Mastercard, Discover, and American Express.
Bank Wire Transfer:
We accept direct wire transfers to make it easy for you place order.
Please contact us so that we can email you more information & instructions.
Shipping:
All orders are shipped via FedEx Domestic and International.
If you are located in Hawaii, Alaska, or international, please e-mail, pm, or call us for the most competitive rates.
Hours of Operation:
Monday through Friday from 8:00 a.m. to 6:00 p.m. PST
Saturday from 9:00 a.m. to 3:00 p.m. Pacific PST
Our website is open 24 hours a day / 365 days a year!
Contact Information:
Direct Line:
1-818-476-6976
Phone:
1-888-714-7467 Toll-Free
Email:
[email protected]
Website:
www.N4SM.com
If you have any questions or concerns, do not hesitate to contact us. We are here to help you!
​
Last edited: