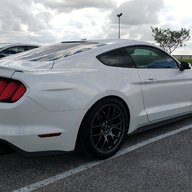 Joined

Feb 21, 2017
Messages
Reaction score

299
Location
Vehicle(s)

17 GT Prem M/T 3.55
I'm posting this as an informational thread, possibly to help others in their CAI research. This is not a "bash Airaid thread." This is a description of how this intake performed in my car, with the mods that I have. YMMV.
I bought my '17 GT non-PP back in Jan. Being new to Mustangs, I did the usual research on bolt-on mods. I definitely wanted a more aggressive exhaust note, so after a lot of research I bought a Ford Performance by Borla Touring catback and installed it. Very happy with it.
Next up on the list was a CAI...that seemed to be one of the usual "bolt on and get some free HP and better intake sound" mods. I didn't want to risk warranty issues, so I went with a no-tune required CAI by Airaid, with a dry filter. Specifically, this exact one:
https://www.airaid.com/search/product.aspx?prod=453-328
The CAI sat in the garage for a while as I just didn't have time to install it. I installed it two weeks ago. I can tell you that the fit and finish of this product is first-rate as is the hardware pack and instructions it comes with. Definitely a well-produced product.
I installed it per the instructions, including capping off the sound tube nipple, as I had previously done the sound tube delete on my car.
Car started right up and idled normally. No CEL or any other abnormality. First thing I noticed was that my exhaust note was hushed quite a bit and that lovely intake howl was pretty much gone. I found all that odd, but the engine idled and revved just fine, but with a muted exhaust note and pretty much no intake sound. Shrugged my shoulders and kept going.
What I discovered right off the bat was that throttle response from about 2k-4k RPMs seemed a bit better, but the engine felt choked going into the upper revs. Once the tac cleared 4K the engine felt significantly less powerful than before. I won't say "fell flat on it's face" but compared to the stock airbox, that's not too far off.
Prior to installing the Airaid, if I was doing about 55mph in third and nailed the gas, I could break the rear tires loose. Now it just accelerated and not as hard as before. I thought maybe the tank of gas I had at the time was sub-par and decided not to pass judgement then and there. I use 87 octane pump gas, BTW. So I drove it for two weeks, about 800 miles and five fillups/tanks of gas.
And came to exactly the same conclusions; this CAI chokes the engine at higher revs...anything above 4K RPM and in my case, really killed the exhaust and intake notes. My mileage also dropped by .7 mpg, which is not exactly a major concern (you don't buy a GT if you're worried about gas mileage) but is worth mentioning.
I have a hypothesis (and that's all it is...a guess) that this CAI was designed to be used with a bone-stock GT, not one with a significantly freer-flowing exhaust. Possibly with a tune, this CAI would come into it's own, but a tune isn't something I'm considering ATM.
During my two-week test period I had no CELs, no idle problems, no problems when stuck in traffic, no problems while doing "slightly more" than the speed limit on open interstate or any engine probs of any kind. Just "meh" performance overall.
I put the stock airbox back in and the performance gain was immediately noticeable.
I'm pretty disappointed. Not really sure what I was expecting, but I was expecting "some kind" of increased performance. More kick in the pants, better intake howl...something.
So that's my experience with the Airaid no-tune CAI. Feel free to ask questions. I will be posting the CAI in the for sale forum for significantly less than I paid for it.
Last edited: