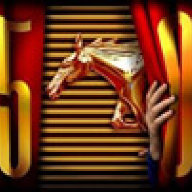 Administrator
Administrator
It's been 50 years since the first "Super Snake" and now Shelby American Inc. has just commemorated the anniversary of the legendary vehicle with the all-new 50th Anniversary 2017 Shelby Super Snake, unveiled today in the Ford Performance booth at the Barrett-Jackson Scottsdale auction.
Shelby American will be building only 500 of the 50th anniversary Super Snakes at a new lower price which not only earns you an individually assigned Shelby serial number and a seat in the official Shelby Registry, but more importantly, a seat in a historical nameplate that now comes with more base performance content than any other Super Snake in history.
The 2017 Super Snake delivers 670HP (with a larger supercharger option to bring it to 750HP) and many first-to-market parts made in conjunction with Ford Performance including exclusive Ford/Shelby spec dampers, sway bars, springs and bushings all working together to refine the handling capabilities of the independent rear suspension. You also get upgraded Shelby-exclusive brakes with massive calipers and a brake/bearing duct cooling system.
The exterior adds subtle refinement (much needed in our opinion) with a tasteful makeover courtesy of Shelby engineered show-and-go parts featuring a new hood, rockers, rear spoilers, front and rocker splitters, front grilles, Shelby exclusive integrated LED fog, marker and turn-signal lamp assemblies, rear tail panel and rear diffuser assembly. As expected, 50th anniversary Super Snake badges, emblems and stripes adorn the vehicle's exterior and interior. It's clear that Shelby American has taken customer feedback to heart and it shows, as this is easily one of the best looking Shelby Mustangs in recent memory.
The sum total is a vehicle that has been engineered for impressive track and road capabilities, which when properly optioned and riding on Michelin street legal tires is capable of 0 to 60 miles-per-hour in 3.5 seconds and blazing through the quarter mile in just 10.9 seconds on pump gasoline. It also can deliver an impressive 1.2g on the skid pad.
The cost of the Shelby Super Snake package is $36,795 which means the complete post-title Mustang GT converted vehicle will run you just under $70,000.
"The 2017 Super Snake represents American muscle in the truest sense," said Vince LaViolette, Shelby American Vice President of Operations. "It delivers full-throttle excitement at every turn, all wrapped in a chiseled, handsome body. We designed every aspect of the car to be leaner and more functional than previous models. No other car offers so much performance and styling for the price."
The Super Snake is available in all Ford factory colors and can be ordered with a manual or automatic transmission. The car is covered by Shelby's limited three year, 36,000 mile limited power train warranty.
**See full specifications below**
2017 50th Anniversary Super Snake Specifications

​

Performance*

• 0-60 mph: 3.5 seconds

• Quarter mile: 10.9 seconds

• Skip pad: 1.2g

*Using the optional 750+ HP supercharger and an automatic transmission Equipment Suspension:

• Exclusive Ford/Shelby spec dampers, sway bars, springs and bushings

• 20" Forged Aluminum Wheels, black or polished

• Shelby spec performance tires

Brakes:

• Wilwood 6 piston calipers on floating rotors (front) and 4 piston calipers (rear)

• Shelby exclusive brake/bearing duct cooling system

Engine:

• 670 horsepower supercharger

• Engine cap set

• Engine compartment plaque signed by the build team will be affixed under the hood

Exterior:

• Shelby Engineered body components: hood, grilles, rockers, rocker splitters, front splitter, rear spoiler, rear tail panel, rear diffuser and lower rear splitter

• Shelby Exclusive Integrated LED fog/marker/turn-signal lamp assemblies

• 50th anniversary badges and stripes

Interior:

• Anniversary logos on the seats and floor mats

• Special door sill plates

• Gauge cluster with exclusive Shelby by Autometer wireless gauges

• Official Shelby Serial number on a dash plaque

Options

• 750+ horsepower option includes:

o 750+ horsepower supercharger (choice of Whipple or Kenne Bell)
o Shelby extreme cooling package
o Ford Performance half shafts
o One-piece drive shaft
o Ford Performance wheel studs​

• Performance

o Ford Performance half shafts
o Shelby extreme cooling system (includes radiator and overflow tank)
o One-piece drive shaft
o Short throw shifter
o 3:73 gears
o Ford Performance wheel studs
o Shelby track tuned adjustable suspension
o Shelby coil covers​

• External

o Painted stripes
o Stripe delete (side stripe is mandatory for all models)
​

• Interior

o Shelby by Katzkin leather seat option upgrade
o 4 point roll bar (harnesses installed by customer)
o Rear seat delete
o Convertible light bar​