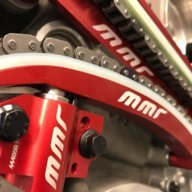 Well-Known Member
Diamond Sponsor
Joined

Oct 7, 2014
Messages
Reaction score

244
Location
Website
Vehicle(s)

Worlds Fastest & Only 5 second Coyote
These Upgraded (HD) Heavy Duty Chains from MMR help eliminate the secondary chain failure on mildly modified 5.0 and 5.2 Coyote Mustang GT applications. The factory Coyote chains were never designed to handle the increased HP from other modifications placing them under extreme stress. These new Upgraded Coyote secondary chains feature stronger materials and construction giving you a direct OEM replacement performance chain.
MMR Chains are so strong that we provide a lifetime warranty to the original owner against breakage, no questions asked! Be sure to choose the correct MMR chain for your application. If you need help choosing, please call 805 383 4130 and we will be happy to help!
If they are not from MMR they are not the "real deal"!The gram scale tells all and these are the heaviest most robust chains that fit the OEM sprockets- Period! Do not be fooled by the "Green Link" copycats offered by other companies, these chains do not provide ANY increased strength over factory chains and the gram scale confirms this!
***NOTE***
NOT FOR USE IN ROAD RACE APPLICATIONS OR DRAG RACE APPLICATIONS THAT USE REV LIMITERS FOR STAGING!! The use of this product in those applications may result in CHAIN FAILURE! These Chains are NOT suggested for applications with aftermarket valve springs and/or camshafts. For those applications YOU MUST USE MMR PN#567890 or 467890 GenX CHAINS/SPROCKETS.
95% Of secondary chain failures are caused by seized camshafts or incorrect valve Timing causing piston to valve contact. BE SURE YOU HAVE IDENTIFIED THE CAUSE BEFORE INSTALLING NEW CHAINS - IF NEITHER OF THESE ARE YOUR SCENARIO YOU SHOULD BE LOOKING AT MMR# 567890 or MMR#467890
2 Chains Included
Features:
*Increased Material Thickness
*Improved Material Quality
*Low Friction polished links
*Lifetime Warranty
Fits:
2011-2020 Mustang GT / F150
2012-2013 BOSS Mustang
2016-2018 GT350
2011-2020 F150
2011 Falcon GT (Australia)
2014-2017 Falcon XR8 (Australia)
2014 FPV Falcon GT-F (Australia)
Last edited: