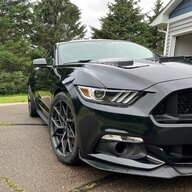 Joined

Nov 26, 2014
Threads
Messages
Reaction score

6,121
Location
Vehicle(s)

Mustang, GR86
I have a Fiesta ST and I get a lot in the catch can. Frankly to me it's surprising. And not just oil vapors. The residue typically has a strong gasoline smell. Annoying, because it means to me the ECU dumps a lot of excess fuel into the cylinders at times.

I realize the 2.3 EB is completely different, but they are both Ford designed engines and they run a similar amount of boost in stock configurations.

My wife's 2013 Escape just turned 100k miles and it knocks and pings all the time. It's done it since before the warranty expired and when she took it in the dealer said "that's normal". I guess yeah, maybe all Fords of that age knock and ping like they are garbage. So, the thing does run fine and it's beyond 100k. Maybe that's good enough for today's car buyer. It's just that carbon buildup is going to shorten the engine's life versus a car with port injection (my opinion). Or it will require expensive maintenance that an older vehicle wouldn't have needed. It's really soured me on new vehicles.

That experience is a big part of the reason why I now have a 2017 GT rather than something newer with DI. I just don't trust that direct injection cars are going to last like the older port injection vehicles. Yes Ford did a combo PI/DI which is much better than pure DI, but I still don't trust it.