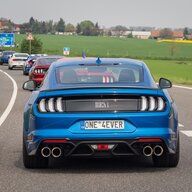 Joined

Jan 14, 2021
Messages
Reaction score

985
Location
First Name

Nick
Vehicle(s)

2021 Mustang Mach 1 Velocity Blue M3440
If you compare the 5.0 to the 4.0 liter flat 6 Porsche uses you will see that there is significant potential to increase power without increasing displacement. The 4.0 Porsche makes 500 hp, and the 5.0 is 25% larger.
718 Cayman GTS 4.0 has 400 hp, GT4 has 420 hp. GT3 RS / GT3 RS 4.0 V6 had 500 hp, true (at 8250 rpm), the compression ratio for these is 12.5 - 12.9. Mustang has 12.0. No idea what it would take to add 35% of power (or even 10-20% of power) or if it's even easily possible without completely new engine. Guess we'll see with S650.
Funny thing was the 180 000 € starting price it had back in the day, that's 250% of fully loaded Mach 1 here. Even GTS 4.0 400 hp starts at 25% more than fully loaded Mach 1 here.
These pipe dreams would cost way more than most of you are willing to pay for naturally aspirated car. The 96 hp per liter is a pretty amazing figure on its own for Coyote.