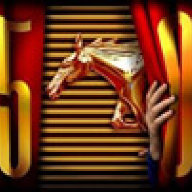 Administrator
Administrator
We
recently reported
on the rumors that the Mach 1 Mustang was finally coming in 2021, possibly to replace the Bulllitt Mustang. Now we may have just gotten our first glimpse of a Mach 1 prototype.
The Mustang prototype features camouflage on the front- and rear-ends, with a unique front-fascia with a generous front splitter. The rear valance, exhaust and diffusers also look unique to this new prototype model.
According to our photographer, a nice V8 soundtrack was unmistakable as the prototype ran for cover. Sporty wheels were attached to what appeared to be sticky Michelin Pilot Sport tires, and Brembo are clearly visible. At the back, a massive deck spoiler stretches out well beyond the edge of the trunk.
Naturally, if we do see a 2021 Mach 1, it will
receive a boost in power and performance
over the Mustang GT and likely slot in between the Mustang GT and the Shelby GT350. The tastefully kitted prototype caught here looks (and sounds) like it fits that description nicely.
Power is speculated to approach the 500 mark, which would top the Bullitt, which boasts 480 HP.
If this is indeed the Mach 1 Mustang, expect it to hit the market sometime next year.